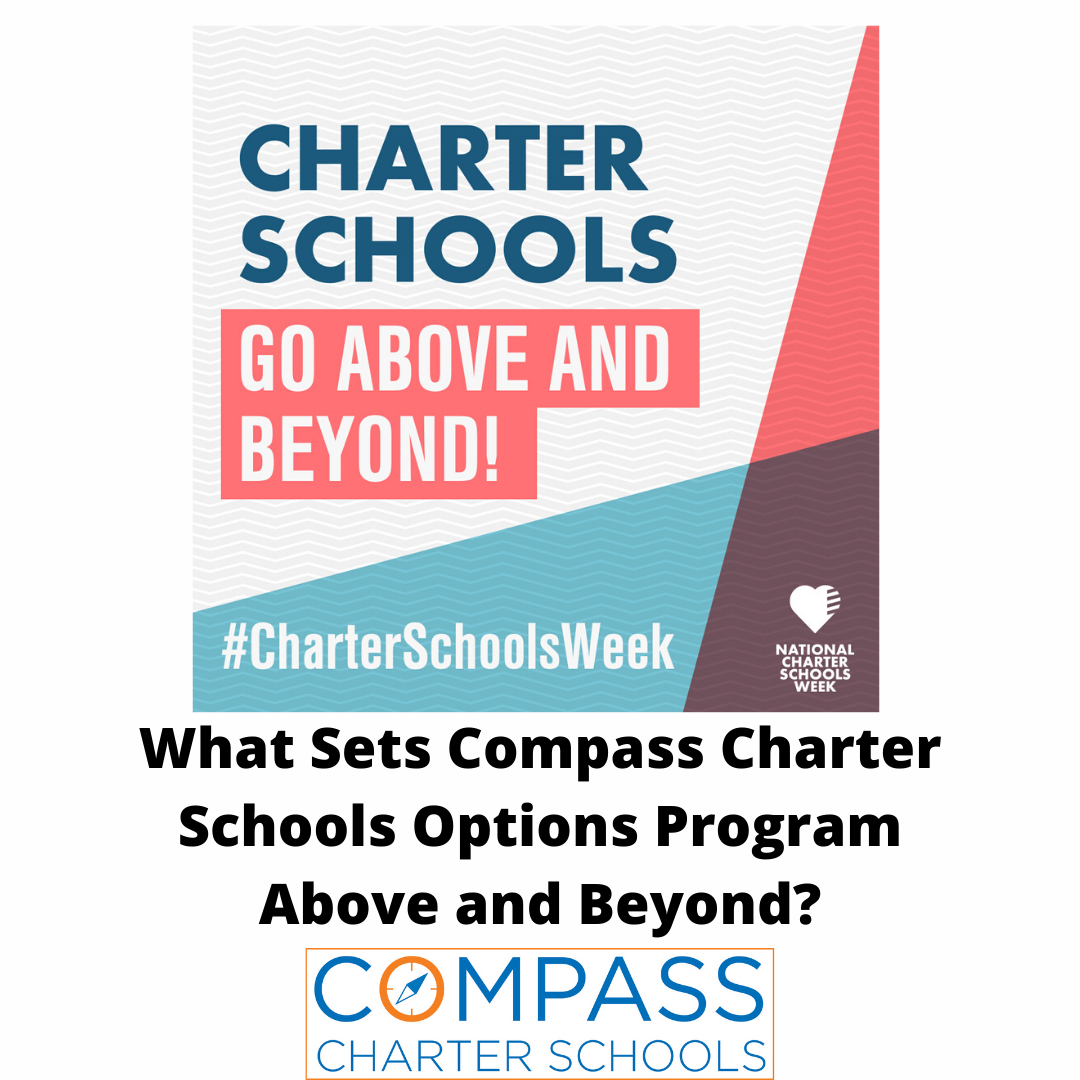 Families from across the state choose Compass Charter Schools (CCS) for the 21st-century Options home study and Online program provided through our cutting-edge curriculum. CCS has advanced programs in Special Education, Counseling, AVID, NCAA courses, engagement opportunities, 1000+ community providers, tutoring, National Honors Society, and more! Success in balancing the development of the whole child is central to our mission and to leading and serving the parents and scholars of California. 
Our exceptional Options Educational Facilitators (EF's) share why Compass stands out above and beyond as we celebrate National Charter Schools Week!
I love the family environment at Compass. I encourage my scholars, and it is a joy to see them achieve their goals through hard work and determination.
~Trisha Theobald, Educational Facilitator
 I enjoy serving our families and helping guide our scholars. My CCS colleagues collaborate so well, and we have such a strong leadership team. I am impressed with how EF's quickly adapt to change and challenges. I am so grateful for my job and community!
~Wendy Guzman, Educational Facilitator 
I love being able to work and teach my children from home. I am proud to be part of the Compass family. Everyone is so helpful and caring. I especially love my Options team that I work with daily. Even though we do not work physically together, we support one another and have fun! What a group of amazing people!
~Danielle Arnheiter, Educational Facilitator
This year, I have truly been amazed at watching how the Options Team works together. Everyone cares for each other and our school and does not think twice about helping out a coworker. Kristy Smith, Director of Options Learning, says, "Many hands make light work." It has been amazing to watch this in action.
~Allison Barrett, Educational Facilitator 
As an EF, I have the ability to help a handful of learning coaches around California with their scholars' educational, social-emotional, and personal success! We are given the freedom to work with learning coaches and handpick a perfect curriculum for their scholar to succeed. We also are given the ability to grow relationships and not only be their EF but also their friend and someone whom they rely on to come to when times are hard! It has been such a joy being in this position. My scholars receive their curriculum and can start mapping out their schedules and what they are learning. It is so rewarding to see the full circle of planning out what to purchase and then seeing the scholars learn and excel at home.
~Katie Dickens, Options Educational Facilitator
I am honored to share that we provide our scholars with an equitable and excellent education that emphasizes literacy and numeracy as well as art. Our support focuses on literacy enrichment, art, and study skills such as focus, concentration, observing, duplicating, reciting, and practicing.
~Abigail Terrell, Educational Facilitator
I love being an EF at Compass because I enjoy the interactions I have with my families and scholars. I appreciate the passion and drive the families have to create unique learning experiences for their children so that they can flourish and achieve academic success!
~Wendy Sottile, Educational Facilitator 
Thank you to our incredible Educational Facilitators for sharing this wealth of information. Our team is here for you – our scholars, our learning coaches, our staff, and our greater community, reach out if there is anything our team can do for you. 
Scholar Testimonial:
"Compass is a super positive and supportive environment. Michelle Vreeman, Options Regional Coordinator has made a huge impact on me this year; she has worked with me every step of the way. My advice for a scholar in the Options program is just to start because, for me, the hardest thing to do in the day is to get started, but once  I do, I am much more productive. Compass allows me to pursue my passions in history, viola, volleyball, and cycling!"
~Kate V., 7-grade Options Scholar
If you are interested in learning more about our Compass Experience, join us for one of our upcoming virtual information sessions! Ready to join our Compass Family? Enroll today!