Scholar Leadership Council
The Scholar Leadership Council serves to provide scholar feedback on school policies and procedures at Compass Charter Schools to ensure that they are consistent with its Mission, Vision, and Values.
Members act as a committed group of advisors to the staff and administration, regarding issues that affect their peer scholars at CCS. They provide feedback and insight from the scholar's perspective on school process, policies and initiatives to ensure that the needs of scholars are included as decisions are made. They also serve as an advisory, not a decision-making body, that makes recommendations, encourages brainstorming and provides opportunities for scholar involvement on committees.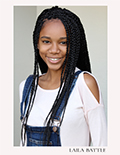 Laila Battle | Member
Hi, my name is Laila Battle I am in 10th grade and This is my first year with Compass Charter School it is a very nice school. I like it a lot and I've met a lot of people. I model and Act I have been in a couple things which I enjoy so much. I was Miss Preteen California for two years and it was such a great experience. This is the third homeschool I've been in and this one is so far the best. I hope everyone gets this experience to make homeschool great. I wanted to be in the student council because I have great leadership skills and I have so many ideas that I would like to share and enjoy.

Elizabeth Christopher | Member
I am a 9th grade scholar with Compass Charter Schools and have been with the CCS family since 6th grade. When I'm not doing school, I love music, photography, writing, baking, and spending time with my family and my cat Midna. I also enjoy spending time with my teachers and peers in Learning Labs, and meeting up with them on field trips. As a part of the Scholar Leadership Council, I hope to make CCS a better learning environment for all scholars and help make CCS the best school it could possibly be.
Jasmine Del Rey | Member
My name is Jasmine and I am 9 years old and currently in fifth grade. I am extremely passionate about reading, coding, robotics, animals, drawing and editing, writing, rollerskating, playing my favorite songs on the piano, going to Harry Potter World at Universal with my family and making sure everyone around me is smiling. I have a younger sister who just started Kindergarten with Compass and I am super excited I get to share my education with her here at this great school.  I love spending time with my fellow peers in the learning labs and enjoy the close friendships I have made with them. I love learning new things and my goals are to become a fictional author like my wonderful idol J.K. Rowling and to run for President of the United States and become one of the first Astronauts to go to Mars. I really love helping people, creating ideas and standing up against bullying. I think I would make a great addition to the Compass Charter student leadership committee to represent my peers.

Alexis Gordon | Member
I have been an online learner going on eight years, the past five years with CCS. This is also my second year with the Student Leadership Council. I strongly believe that we, the scholars, should advise and contribute to our learning environment to help shape CCS into the best school it can possibly be.

Vania Linares | Chair
Vania has been a CCS scholar for two years and is now in 10th grade. In her free time she loves to further explore and develop her passion for music, as well as strengthen her writing abilities and knowledge of criminal justice. Vania is in the Scholar Leadership Council because she wants to be part of an association that strives to better unify and assist the student body.

Avery Stansbury | Member
Avery is a 4th grade scholar at Compass Charter Schools.  He has been part of the CCS family for three years.  When he is not in learning labs and completing school work, he enjoys playing the piano, reading, and is determined to be a youtuber.  Avery is part of the SLC because he wants to represent his peers at Compass, help make the school a better place, and learn new leadership skills.

Kate Vreeman | Member
I am Kate, a sixth-grade Options Scholar, and I love being a part of Compass!  I have been homeschooling for six years and I love to read, write, color, and go Jeeping. When I am not doing school, I am usually practicing my viola, playing volleyball, or going cycling. I hope to be very involved here at CCS, help my fellow peers, and support Compass any way I can.

Airia Yeung | Member
Hello, my name is Airis and I am in 7th grade.  I have been with CCS since first grade and have loved every year!  Being at CCS has allowed me to do and try EVERYTHING, from playing the violin, piano, and cello to acting to traveling for field trips throughout California to learning more than I would at a traditional school, and so much more!   I would like to be on the Scholar Leadership Council because CCS has taught me that working together and helping each other makes for a better world and it would be an honor to be a part of that.

Maryam Zorba | Vice Chair
I am a 6th grader and I have been with Compass Charter Schools for three years. In my spare time, I enjoy drawing digitally, reading fiction books, watching sci-fi movies, and I am also a YouTuber. I am involved in the Sci-Fi/Fantasy Club, Computer Coding Club, and Reading Club. My goal is to become a well-rounded student and contribute positively to other scholars experience in CCS.
If you are interested in serving on the Scholar Leadership Council, please contact J.J. Lewis, Superintendent & CEO, to learn how to get involved.