Giving to the Annual Fund
The Annual Fund is Compass Charter Schools' first giving priority and the fundraiser in which we invite every family to participate.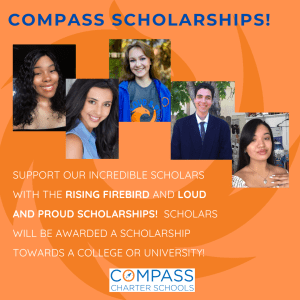 Dollars raised through the Annual Fund support scholarships for our graduating seniors! We currently offer two scholarships for our graduates:
Loud and Proud Scholarship and Rising Firebird Scholarship.
Compass Charter Schools celebrates graduating scholars Alexys Vivian, Hannah Smith, Miavalery Alvarez Becerra, Christian Carter, KristiLynn Effie, and Lyric Hearne-Hooker, all of whom were named recipients of the Loud and Proud Scholarships and the Rising Firebird scholarships for the 2021-22 school year. Each scholar was awarded $250 towards their college education.
There are many ways to give to Compass Charter Schools!
1. Online – preferred method
Make a secure online donation. You can make a one-time and/or recurring monthly gift.

2. Check
Make checks payable to Compass Charter Schools and drop off or mail to:
Compass Charter Schools
Attn: Scholarship Fund
850 Hampshire Road, Suite R
Thousand Oaks, CA 91361
Please provide your name, address, email, and scholars name, if applicable, with your check.
3. Stock
Make a secure online gift of stock
Donate Stock To Compass Charter Schools
We are extremely grateful for your support and continued dedication to Compass Charter Schools.
Thank you for your generous support!