Our award-winning free public school offers both an Online and Options home study program for grades TK-12, serving Los Angeles, San Diego, Yolo, and surrounding counties. To help you make an educated decision during National School Choice Week, here are 10 reasons to enroll in Compass:
Experts Outside the Brick-and-Mortar Box for Over 11 Years
As one of California's leading WASC-accredited virtual charter schools of choice, we are the experts in personalized learning with high standards for academic achievement. We understand how to fully support our learning coaches (legal guardians) and scholars with the most talented accredited teachers and motivated staff. Together we continue to raise the bar for excellence in personalized virtual learning.
One School for the Entire TK-12 Academic Journey
Compass educates scholars TK-12 in our Options home study program and K-12 in our Online program. We encourage a personalized approach that allows scholars to stay with Compass for their entire TK-12 academic journey. Teachers meet scholars where they are and see them for who they are, so every scholar thrives on their best-tailored educational path to academic success, year after year.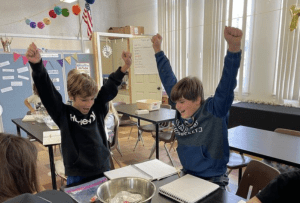 100% Accredited Teachers 
Know your scholars learn from the best. Our teachers are talented and accredited in the subjects they teach. Personalized learning means teachers are passionate about each scholar's success. Our gold standard in educator hiring processes ensures teachers and support staff show up above and beyond parents' expectations.
High-Quality Support System
Our well-established Multi-tiered System of Support (MTSS) connects our families and scholars with top-notch resources: English Learning, Tutoring, Social and Emotional Learning, and Counseling. Our Learning Coach Academy provides learning coaches with connections and best practices. We don't outsource much at Compass to maintain our high standard of quality social, mental, and academic health. 
Teacher & Parent Wellness to Prevent Burnout
When teachers and learning coaches feel supported in self-care and wellness routines, our scholars thrive. Part of our support for our teachers and families is partnering with Wellness for Educators to provide strategies for mental, physical, social, and emotional health.
Personalized Emotional Support
The Counseling Department at Compass compassionately serves our K-12 scholars. Our counselors know each scholar by name and as an individual; because of our ongoing commitment to our low counselor-to-scholar ratio. 

Scholar-Led Clubs
Scholars learn essential social skills with scholar-led clubs within Compass. Our scholars enjoy field trips and enrichment activities as a great way to connect, work together, and fine-tune communication and leadership skills. Our Engagement Department also facilitates hands-on learning and community service, enriching our Compass scholars beyond their computers and tablets.
Preparing for Life After High School
Compass courses are A-G and NCAA aligned, so our scholars track to exciting futures along their customized educational journey. One way we prepare scholars to reach life goals is through our school-wide implementation of AVID instructional strategies and our 7-12 grade AVID Online course. Scholars learn skills such as meeting deadlines, adapting to academic pressure, asking for assistance, and managing their schedules. Compass is one of the few online AVID schools in the nation.

Diversity, Equity and Innovation
Every scholar belongs in our academically rigorous schools. Each family is unique in their learning and teaching style, as well as in their family makeup, background, current situation and schedule. We give families a great deal of guidance, freedom, flexibility and personalized support to inspire and develop innovative, creative, self-directed learners.
The Gold Standard in Personalized Learning
As education professionals, we continually learn, innovate, and improve as we achieve more every day, month, and year. The sky is the limit, and we're motivated every day to lead in this journey.
Compass is your expert in home study and online learning programs, helping your scholars realize their academic goals and life dreams. We hope to meet you and your scholar for enrollment consideration in our tuition-free public schools. Celebrate National School Choice Week with us. Choose Compass today!
About Compass 
Compass Charter Schools (Compass) is the Gold Standard in Personalized Learning for innovative, creative self-learners. We celebrate diversity & equity in our tuition-free public school – every scholar belongs in our tailored education programs: Online and Options home study. As one of California's leading WASC-accredited virtual charter schools of choice, we nurture a curiosity for lifelong learning. Every TK-12 scholar and learning coach (our term for parents) is fully supported with in-house counselors, welcoming staff, and talented accredited teachers. Additionally, we are the only virtual Purple Star School in California, and one of few virtual AVID programs in the nation. Join our collaborative virtual learning community. Rise and Soar with our Firebirds – enroll with Compass today!