The benefits of personalized learning go far beyond the academic rigor of Compass Charter Schools (Compass). Child actors take advantage of flexible schedules and our stellar support. Additional advantages to serving Los Angeles, San Diego, Yolo, and surrounding counties is that our free public TK-12 schools eliminate geographic boundaries within California. Take it from one of our scholars, Pyper Braun, a rising star in grade 4 and Hollywood.
Child Actors Need Flexible School Schedules
"Pyper works as an actress and has for years," said Danielle Braun, Pyper's Mom. "With the constantly changing schedule, we needed something that could offer her more flexibility where she would continue to learn, grow, and succeed academically and emotionally."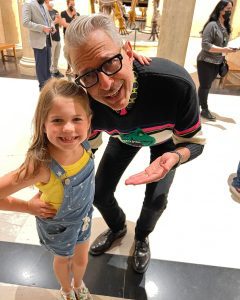 "Compass gives us the opportunity to focus on her individual strengths and needs while providing a well-rounded education. The flexible education gives our family more time to spend together and participate in activities that a traditional school environment would not. The flexibility also allows Pyper to work stress free!"
From her role in the Netflix series Country Comfort to her role in upcoming Nickelodeon series Erin & Aaron, Pyper's acting career keeps her very busy! 
"My favorite part of being an actress is always meeting new people. My goal is always to meet as many people as I can and learn something from everyone," said Pyper.
We're proud that our Compass Options Program works well for her academic and career goals.
Starring Compass Scholar and Learning Coach Support
"Her Supervising Teacher (ST) has encouraged her work and supported her from the first moment we were introduced. From the beginning, everyone at Compass has been a part of our team, helping and encouraging Pyper to be well adjusted and successful," said Danielle Pyper's Mom.
This is a great example of our Gold Standard in Personalized Learning. In order to inspire and develop innovative, creative, self-directed learners, one scholar at a time, we provide the following:
Educational Support Funds

School Support Staff

A Team of Supervising Teachers (ST) 
so our scholars and families receive the best academic guidance, support, and encouragement possible.
Danielle shares, "Compass and our ST have supported us every step of the way. It can seem very overwhelming at first trying to juggle a career and home studies. To have a school like Compass makes these challenges easy to overcome. We are very grateful to Compass and our ST!"
Child Actors + Personalized Learning = Awesome!
"My favorite subject is always changing," said Pyper. "Right now, I would have to say History. I just finished the unit on the Gold Rush. It was so interesting and fun to learn how our state was formed."
"The home study program at Compass supports Pyper's career by allowing us to tailor her education for her individual needs while supporting us as a family," said Pyper's Mom. "It not only allows Pyper to work but spend more time with her family."
"Compass is just flat out awesome," said Pyper.
Thank you, Pyper and family! We are grateful to support young actors and their families as they strive to balance their education and career.
If your child actor needs to excel in both academics and career with a healthy work/life balance, consider Compass Charter Schools. We're Loud & Proud Firebirds, ready to support your rising star for life-long learning. Enroll with us today!
About Compass 
Compass Charter Schools (Compass) is the Gold Standard in Personalized Learning for innovative, creative self-learners. We celebrate diversity & equity in our tuition-free public school – every scholar belongs in our tailored education programs: Online and Options home study. As one of California's leading WASC-accredited virtual charter schools of choice, we nurture a curiosity for lifelong learning. Every TK-12 scholar and learning coach (our term for parents) is fully supported with in-house counselors, welcoming staff, and talented accredited teachers. Additionally, we are the only virtual Purple Star School in California and one of few virtual AVID programs in the nation. Join our collaborative virtual learning community. Rise and Soar with our Firebirds – enroll with Compass today!