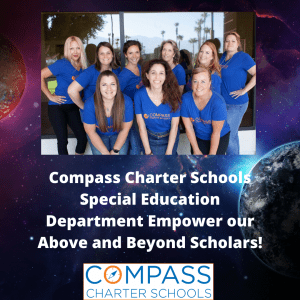 Compass Charter Schools (CCS) provides support services in a virtual environment for scholars with IEPs. For scholars in need of Specialized Academic Instruction (SAI), CCS Special Education (SPED) Instructors provide these services in a virtual online format. IEP services for Speech, Occupational Therapy, Physical Therapy, and Psychological Services are provided by specialized contractors sent by CCS to provide assessment and therapy services. Many of our contractors provide services in an online format as well.
I caught up with Dawn Anglemyer, one of our incredible Special Education Instructors and asked her a few questions about her experience at CCS:
What do you love about being a SPED instructor at CCS?
I love working in SPED. It is fantastic to collaborate with such a talented and caring group of educators. Working so closely with my scholars and their families is truly a privilege. I love being able to help them reach their IEP goals and grow into who they want to be.
Tell us about a scholar at CCS who has made a significant impact on you this year?
I have a student who I could not understand at all when she first qualified this year. I had no idea if she was reading and what she understood. Through her hard work and the help of the IEP team, she is now reading and can be understood in a structured setting with prompts.
What is your superpower?
My superpower is definitely multi-tasking. These skills have been absolutely tested in the current COVID situation! Balancing work and my own two children's education has been exhausting! When I do have downtime, I love to work in my garden, read, play games with my children, and watch movies with them.
What is your advice for scholar success in SPED?
Celebrate progress, no matter how small! Never give up!
Some more of our awesome SPED staff share what it is like to work at CCS:
I love working in the SPED not only for the awesome scholars we get to teach but for the awesome team I get to work with! Teamwork makes the dream work!
~Leslie Sharma, Special Education Instructor
For the last two academic years, it has been an honor to hold the title of Exceptional Scholar Instructor/Case Manager for the SPED at Compass Charter Schools. The families I support are like none other. They want the very best atmosphere for their scholars and understand the importance of the environment for learning. Through platforms such as Zoom, Hangouts, and Google share docs, we can communicate and develop those relationships with the "family." This way, we truly learn the cultural dynamics, traditions, and demographics as well as the preferred learning modality that help make a successful educational journey for all.
~Barbara Johnston, Special Education Instructor
I am so proud of our team, and I appreciate them so much. Whether they are pulling from their bags of tricks to best service scholars or collaborating gracefully with parents and providers, they are a very dedicated, passionate group of educators who impress me all the time. They rise to challenges and problem solve well collaboratively. We also laugh together, which helps us all with tougher situations.
~Gabreille Golan, M.Ed., Director of Special Education
Thank you to all our hard-working SPED staff for sharing your inspiring experiences. Our team is here for you – our counselors, our scholars, our learning coaches, our staff, and our greater community, reach out if there is anything our team can do for you.
If you are interested in learning more about our Compass Experience, join us for one of our upcoming virtual information sessions! Ready to join our Compass Family? Enroll today!
Follow us on Twitter, Facebook, and Instagram!