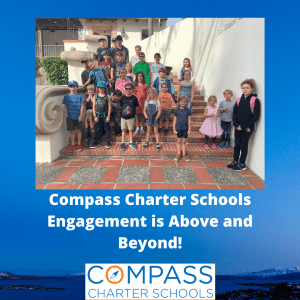 Families choose Compass Charter Schools (CCS) for our gold standard in education virtual and at home, as well as our exceptional counseling, special education services, and our diverse Engagement Program. Being a virtual school, we go above and beyond to provide opportunities for scholars to learn and grow in many different areas. Engagement at Compass, includes Compass Scholar Clubs, Field Trips, Enrichment, and Award Opportunities.
Scholar Clubs are scholar-driven, guided by an experienced staff member, and meet virtually on a regular basis. Taking part in organized clubs can not only equip children with new physical skills but also allows scholars to meet new people and form new friendships, which often leads to an increase in confidence and, thus, independence. Some of our clubs include Art, Chess, Coding, Cooking, Dance, E-Sports, Minecraft, Performing Arts, Science, Scholar Leadership, Video Production, and more!
Field trips offer our scholars educational experiences to expand their knowledge of the world around them and discover their passions, within a virtual or safe environment where they can explore the real-life options available to them. Some of our exceptional field trips include aquariums, Civil War Revisited, Claremont Chef's Academy, Disney's Educational Program, galleries, LA County Fair, museums, Educational Classes at LEGOLAND, The Nutcracker, Seaworld's Educational Program, Warner Brothers Studios, and more!
Enrichment activities are offered virtually and focus on topics of interest to scholars and Learning Coaches. Topics include college and career preparation, exploration of the arts and sciences, community service projects, and other special events. We seek to provide enrichment programs that expose our scholars to unique experiences that enhance their knowledge and background and encourage them to develop new passions and skills. 
At Compass, we are proud of our excellent Award Opportunities; which include Scholar of the Month, ARTIC Core Values Awards, Firebird of the Year, Perfect Attendance, Samaritan Award, National Honor Society Lifetime Member, Gold and Silver Presidential Awards, Most Improved in Achievement, Learning Coach of the Year, and more!
 Here are what some of our parents/learning coaches have to say about engagement field trips:
 "It was incredible to see my scholars happy faces when the goats allowed them to feed them. For freedom, I think the children learn more here than at public schools and are safe. We love the field trips and the learning labs." Shared Eveling M., parent, field trip to the LA County Fair.
"The jellyfish, sea turtle, bubble coral, and view of La Jolla was fabulous! Being a San Diego native, I finally got to experience the aquarium with my teens that I'd heard so much about for decades. The staff is always kind and give their best." Shared Joy Elizabeth E., parent, field trip to Birch Aquarium La Jolla.
"My girls were unsure of the class as they already draw, but they really liked it and have asked to take more classes there. I love seeing my girls discover that there is always something new to learn and seeing how happy they are with the results." Shared Miriam D., parent, field trip to Mission Renaissance.
"The highlight was spending time with her best friend and other scholars. We learned new facts about the different kinds of whales – and the food was great! This is an awesome all "encompassing" experience. Love the CCS crew (teachers, Superintendent & CEO J.J. Lewis, and counselors) and the way that they always listen to the parents and scholars and are continually growing and improving. Shared Galit G., parent, field trip to the Birch Aquarium La Jolla. 
"I loved seeing my son making his own animations and seeing the joy as he enjoyed the park. I would definitely recommend CCS to do this field trip again in the future. We have been given such great support at Compass, great programs, vendors, and field trip opportunities." Shared Christina H., parent, field trip to Designing a Disney Story.
"Both of my scholars enjoyed programming and customizing a robot. For example, they could change its color, add sounds, etc. It was fun watching my girls rock the class and have a blast. The instructor was amazing, and I like that it was a woman, as this field is often male-dominated. A highlight was when the instructor told Claire, my 9-year-old, that she could teach the class. She wanted Claire to sign up for the additional public classes! I love that at Compass, we can customize the subjects they are in, to the right level, regardless of age, so they stay interested and engaged." Shared Rochelle B., parent, field trip to Robotics Class at LEGOLAND.
And a word from Rebecca MacAlpine, Director of Engagement:
 "I love working within the Engagement Department at Compass because it provides me the opportunity to develop experiences for our staff and families. These offerings contribute to our staff and families building meaningful relationships and lasting memories. It is such an honor to contribute to the greater Compass experience by supporting the many different facets of our department!"
Thank you to all our incredible parents and the Engagement Department for bringing these amazing experiences to life! Our team is here for you – our counselors, our scholars, our learning coaches, our staff, and our greater community, reach out if there is anything our team can do for you.
If you are interested in learning more about our Compass Experience, join us for one of our upcoming virtual information sessions! Ready to join our Compass Family? Enroll today!
Follow us on Twitter, Facebook, and Instagram!