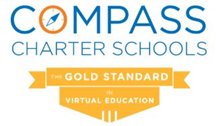 FOR IMMEDIATE RELEASE: CONTACT: Kimberly Aguilar
October 15, 2020, (805) 807-8295
Compass Charter Schools Crystal Chavez to Present at the
Virtual Fall CUE
 
Thousand Oaks, CA – Compass Charter Schools Online Elementary School Teacher Crystal Chavez will present "SEL: No Time? No Curriculum? No Problem!" on Social-Emotional Learning (SEL) at the Virtual Fall CUE 2020 on October 24 from 5-6 pm. SEL is learning how to develop self-awareness, self-control, and interpersonal skills vital for school, work, and life success. She will also be supporting teachers with a video on wellness and how gardening can help for the CUE wellness on demand site. 
"Compass is thrilled that Crystal Chavez will be presenting at Fall CUE next week," shares J.J. Lewis, Superintendent & CEO. "Crystal has become quite the expert in SEL learning, has been featured in Good Housekeeping magazine, and is helping many of our scholars and teachers cope during these trying times." 
Scholars with strong SEL skills can better cope with everyday challenges and benefit academically, socially, and professionally. They learn self-discipline, problem-solving skills, impulse control, and emotion management. SEL provides the groundwork for positive, lifelong effects on scholars.
"I'm so pleased to support this community of educators that has given so much to me," shared Chavez. "SEL is my passion, and I hope to help others build resilience and wellness during uncertain times."
Virtual Fall CUE 2020 will take place from October 22-26 and host education-minded attendees at this virtual event. Virtual Fall CUE brings together over 42 years of CUE institutional knowledge and the brightest edtech minds in education to share best practices, innovation, and engaging sessions.
About CUE
CUE, Computer-Using Educators, is a nonprofit educational corporation founded in 1978. CUE's goal is to inspire innovative learners in all disciplines, from preschool through college. With an active current membership of thousands of educational professionals, CUE supports many regional affiliates and Learning Networks. CUE Conferences are California's premier educational technology events. CUE is the largest organization of its type in the west and one of the largest in the United States.
About Compass Charter Schools
Compass Charter Schools (CCS) is a WASC-accredited virtual personalized learning public charter school serving thousands of scholars throughout California. Catering to TK-12 grade scholars, CCS offers two personalized learning programs. CCS is committed to creating a collaborative virtual learning community, inspiring scholars to appreciate the ways in which arts and sciences nurture a curiosity for lifelong learning and preparing scholars to take responsibility for their future successes.
For more information about CCS, visit www.compasscharters.org, via Twitter (https://twitter.com/CompassCs), Facebook (https://www.facebook.com/CompassCS/) or Instagram (https://www.instagram.com/compasscs/). 
###