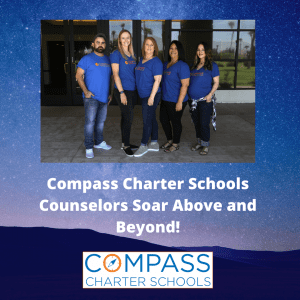 Counseling is one of our most valued specialties provided at Compass Charter Schools (CCS). Our school counselors are vital members of the educational team. The program offers:
Individual Scholar Planning, helping scholars establish goals and develop future plans through academic planning and appropriate course selection.

Responsive Services, meeting the individual needs of each scholar.

Counseling Curriculum, that provides scholars the knowledge and skills appropriate for their developmental level and addresses the needs of the school community.

College & Career Readiness services that provide help with post-secondary planning, exploration, college admission, and financial aid support.
We are committed to proactive collaboration with scholars to provide equitable school counseling services that promote academic success, personal growth, career exploration, and college readiness in a virtual learning environment.
~Debra Stephan, Director of Counseling Services
Let's hear what our scholars have to say:
I love everything about Mrs. Mandi Schwartzberg! She is the most amazing school counselor that I've ever had! I will always both appreciate and respect her! She is sweet, helpful, and always checking up on me. She is always motivating other scholars and myself. I also would like to thank her for inspiring me to fulfill my educational goals, and to both achieve as well as follow my college dreams. Mrs. Schwartzberg, you are a fantastic person, and I hope you know how appreciated you are!
~Jenesis M., 12-grade online scholar
Thank you, Mrs. Gabriela Ayala, for helping me all the time you've been my counselor; whenever I need help, you are the first person that I go to. Thank you for everything!
~Raven F., 11-grade online scholar
Thank you so much to our counselor, Mr. Jacob Samples, for everything that you've done for our family. We genuinely appreciate your sincere approach and guidance provided.
~Chloe H., 10-grade online scholar
Thank you, Mrs. Gabriela Ayala, for being there to motivate and support me. I appreciate everything that you do for me. Thank you for our weekly meetups and motivational talks; you are the best counselor that I have ever had. You're so kind and positive, and my Mom and I both really appreciate you!
~Jasmine D.H., 12-grade online scholar
And a little advice from our staff:
One of the highlights this school year was when a graduating senior sent an email sharing how all of the staff supported her and never gave up on her. She also shared advice to other scholars to never give up and reach out right away because the counselors and teachers always want what is best for the scholar.
~Janae Smith, High School Coordinator  
Don't be afraid to ask for help or support, CCS has a lot of resources ready and strategies in place to support scholars. There are a lot of veteran counselors, parents, and educators that have a wealth of knowledge that they can share.
~Allison Barrett, Educational Facilitator
Thank you to our amazing counselors, scholars, and teachers for sharing your success stories. Our team is here for you – our counselors, our scholars, our learning coaches, our staff, and our greater community, reach out if there is anything our team can do for you. 
If you are interested in learning more about our Compass Experience, join us for one of our upcoming virtual information sessions! Ready to join our Compass Family? Enroll today!
 Follow us on Twitter, Facebook, and Instagram!