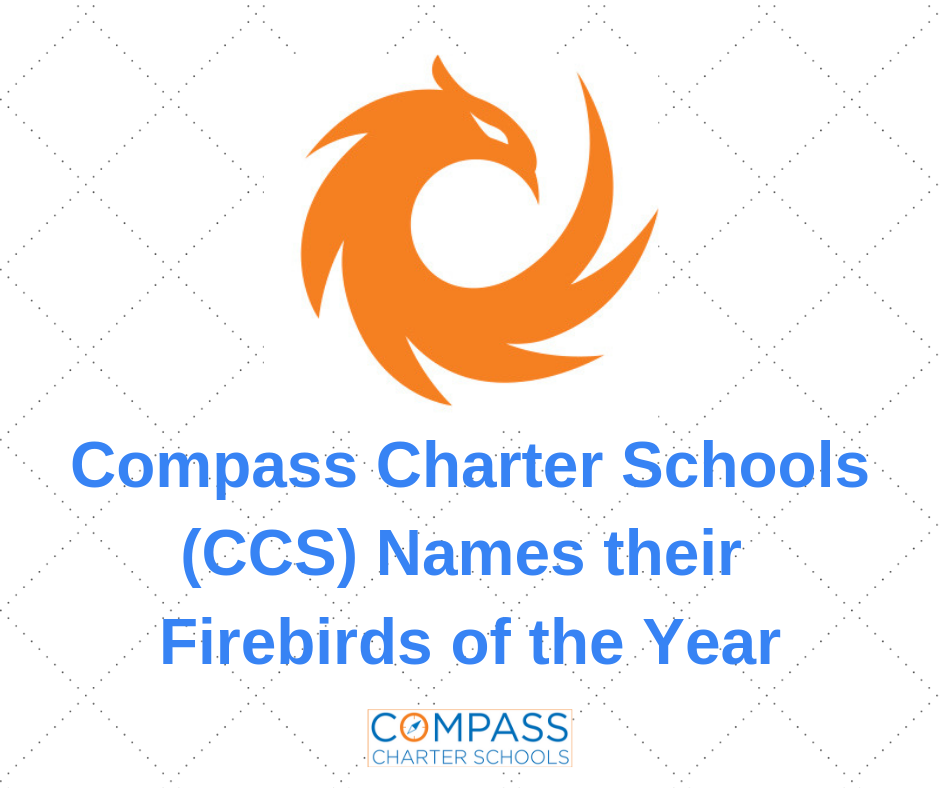 Thousand Oaks, CA – CCS is proud of its scholars and uses the Firebird of the Year program to recognize the outstanding accomplishments of a select group of scholars at the end of each school year. These scholars received the Scholar of the Month award during the 2018-19 school year. From this pool, the leadership team selected the Firebirds of the Year based on their academic excellence, work ethic, leadership skills, and virtual involvement.
Online Elementary School Firebird of the Year: Nic P., of Fallbrook
"Nic recently joined our Compass family," said Ashley Daugherty, Online K-8 Coordinator. "He jumped right into his classes and worked very hard on all of his assignments. He attended his learning labs and was always willing to participate during class discussions! Nic has been a wonderful addition to our school. He definitely embodies our core values of achievement, respect, teamwork, integrity and communication!"
Online Middle School Firebird of the Year: Alexis G., of Carlsbad
"Alexis was a truly outstanding scholar this year," said Ashley Daugherty, Online K-8 Coordinator. "She worked hard and stayed ahead in most of her classes and she actively participated during her learning labs. Alexis self-advocates, communicates clearly, and is a wonderful example of our school's core values because she is a respectful team player who demonstrates the utmost integrity when communicating with her peers and teachers to achieve success!" 
Online High School Firebird of the Year: Lyric H., of Los Angeles
"Lyric was a wonderful scholar to work with this year," said Janae Smith, Online High School Coordinator. She was thoughtful, articulate and creative. Lyric took pride in the work that she submitted for all of her classes. She was an independent, hard worker who demonstrated great integrity and excellent organizational skills. Lyric's teachers truly enjoyed having her in their classes." 
Options Program Firebird of the Year: Addison A., of Costa Mesa
"Besides working incredibly diligently and excelling academically, Addison has demonstrated tremendous compassion and leadership this year," said Alissa Beamish, educational facilitator. "She started the Kindness Club at our learning center this year, where scholars gathered to do Acts of Kindness to spread love. Addison served as a Be Strong representative this year, completing training on how to prevent bullying and applying her knowledge at school. She is always respectful and kind and has a tremendous heart to help those around her. I am so proud of Addison and the ways that she is developing as a leader, learning the value of empowering others and having grace for herself and people around her.  
"Congratulations to all of our Firebirds of the Year! There are many talented scholars at CCS, and this new program is just one of the many ways we recognize and celebrate the exceptional work of a select group of scholars," shared J.J. Lewis, Superintendent & CEO. "Please join all of us at CCS in celebrating Nic, Alexis, Lyric, and Addison for being named our Firebirds of the Year!"
About Compass Charter Schools  
Compass Charter Schools (CCS) is a WASC-accredited virtual public charter school serving thousands of scholars throughout the state. Catering to TK-12 grade scholars, CCS offers the choice of either their homeschool or online academic program. CCS is committed to creating a collaborative virtual learning community, inspiring scholars to appreciate the ways in which arts and sciences nurture a curiosity for lifelong learning, and preparing scholars to take responsibility for their future successes.
For more information about CCS, visit www.compasscharters.org, via Twitter (https://twitter.com/CompassCs), on Facebook (https://www.facebook.com/CompassCS/) or on Instagram (https://www.instagram.com/compasscs/).