FOR IMMEDIATE RELEASE: CONTACT:
March 6, 2020
Kimberly Aguilar
(805) 341-4689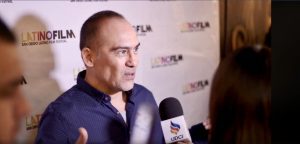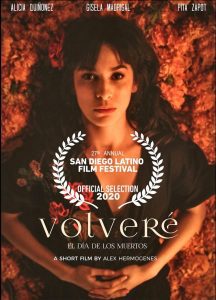 THOUSAND OAKS, CA – Compass Charter Schools (CCS) celebrates Alex Vazquez, aka Alex Hermogenes, high school Spanish teacher as he premieres his award-winning film Volvere. The short film is the first official selection from the renowned 2020 San Diego Latino Film Festival 27 edition in the narrative category. It will be screened at the Fashion Valley AMC 18 theaters on Thursday, March 16, at 6 pm. 
"It is so wonderful to see one of our teachers pursuing his passion and being recognized for his work," shared J.J. Lewis, Superintendent & CEO. "Teaching is a passion-driven occupation, and to be a filmmaker on top of that is quite impressive. He is motivating all of us to never stop chasing our dreams and following our passions."
Volvere recreates the beautiful belief of the Dia de Muertos (Day of the Dead). The talented cast includes Ariel-nominated Alicia Quinonez, the renowned Gisela Madrigal, and the remarkable dancer and performer Pita Zapot as "La Muerte." During the celebration, a mother and her child visit their grandmother's tomb to make an altar according to tradition. However, they have a surprise visit by someone very special from the afterlife.
Vasquez was born in Mexico City and moved to San Diego 30 years ago to study literature at San Diego State University. He teaches Spanish at CCS and previously taught essay writing at San Diego Community College. He has been working on this film for the past two years.
"Finalment somos loque dejamos en el corazon de lass personas," shared Vasquez.
"We are what we leave in people's hearts."
About Compass Charter Schools
Compass Charter Schools (CCS) is a WASC-accredited virtual public charter school serving thousands of scholars throughout the state of California. Catering to TK-12 grade scholars, CCS offers two personalized learning programs. CCS is committed to creating a collaborative virtual learning community, inspiring scholars to appreciate how arts and sciences nurture a curiosity for lifelong learning and preparing scholars to take responsibility for their future successes.
For more information about CCS, visit www.compasscharters.org, via Twitter (https://twitter.com/CompassCs), Facebook (https://www.facebook.com/CompassCS/) or Instagram (https://www.instagram.com/compasscs/). 
###