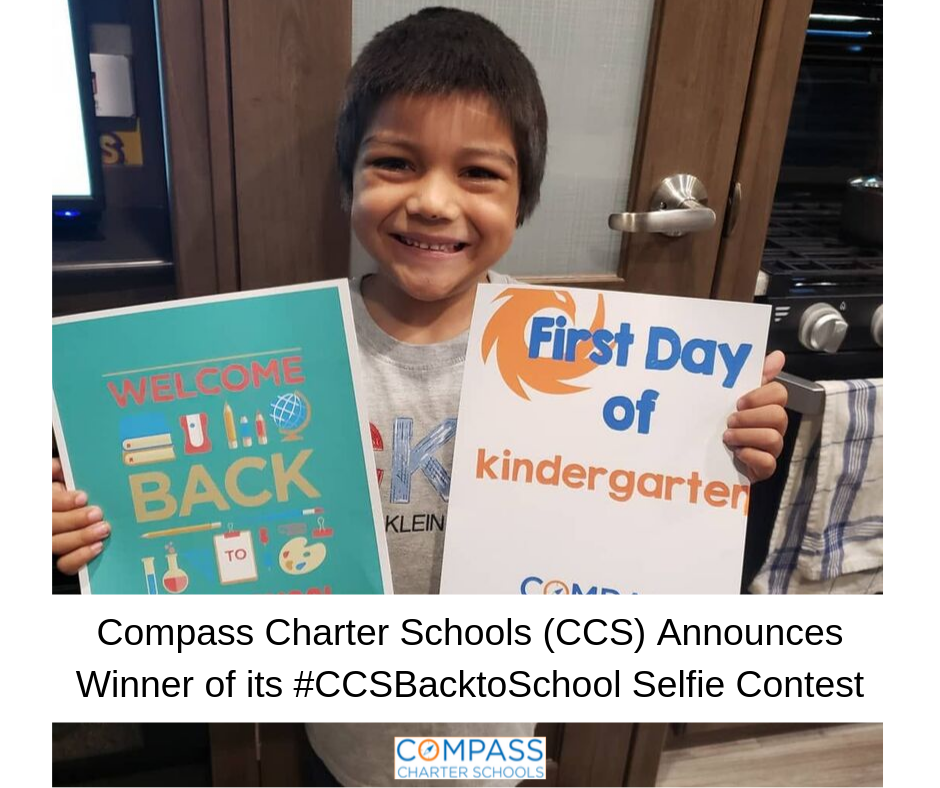 Thousand Oaks, CA –  Compass Charter Schools (CCS) announced scholar Nicholas W. Jr., a Kindergartner at CCS of Los Angeles, as the winner of its #CCSBacktoSchool Selfie Contest. Throughout September, scholars were invited to take a selfie while holding the CCS Back-to-School sign and then share their photos on social media. The contest was an opportunity for scholars to mark the start of the new school year.
Nicholas shared a photo of himself while holding the back-to-school sign on the first day of school, which was also his first day of Kindergarten. He will receive a back-to-school supply kit as the grand prize. Other CCS scholars entered photos of their first day of school, which included lists of career goals and fun facts about themselves.
"Congratulations to Nicholas for being named the winner of our #CCSBacktoSchool Selfie Contest," said Rebecca MacAlpine, Director of Engagement. "He shared a great photo of his first day of school and the excitement on his face really says it all! Thank you to all of our scholars who showed their school spirit and entered the #CCSBacktoSchool Selfie Contest."
CCS is proud of all the participating scholars for sharing pictures of their first day of school on social media. CCS continues to offer scholars the opportunity to play a leading role in their school's community, and encourages scholars to express their creativity and share their school spirit.
About Compass Charter Schools  
Compass Charter Schools (CCS) is a WASC-accredited virtual public charter school serving thousands of scholars throughout the state. Catering to TK-12 grade scholars, CCS offers the choice of either their homeschool or online academic program. CCS is committed to creating a collaborative virtual learning community, inspiring scholars to appreciate the ways in which arts and sciences nurture a curiosity for lifelong learning, and preparing scholars to take responsibility for their future successes.
For more information about CCS, visit www.compasscharters.org, via Twitter (https://twitter.com/CompassCs), on Facebook (https://www.facebook.com/CompassCS/) or on Instagram (https://www.instagram.com/compasscs/).