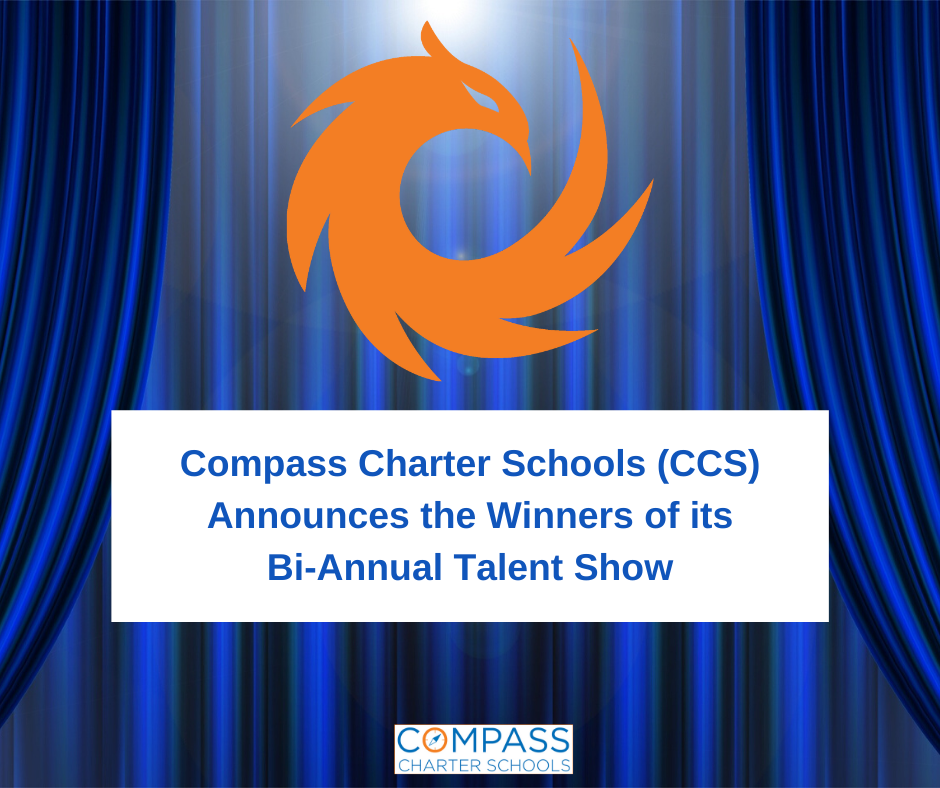 Thousand Oaks, CA –  Compass Charter Schools (CCS) announced scholars Thasya M., a fourth-grade scholar at CCS of Los Angeles, Justin-Daniel (JD) S., a fifth-grade scholar at CCS of Yolo, as the winners of its Bi-Annual Virtual Talent Show. The Virtual Talent Show was held on Thursday, November 14. The winners were selected by a judging panel of six CCS staff members.
"I am incredibly proud of all the scholars who participated in our Virtual Talent Show," said Rebecca MacAlpine, Director of Engagement. "Our scholars are truly gifted with such a wide variety of impressive talents. I am also very grateful for all of the amazing support that our scholars, parents, and staff showed the scholars who performed in our talent show. I am so proud of our supportive, spirited and encouraging Compass community."
During the Virtual Talent Show, Thasya performed a classical Indian dance, and Justin-Daniel demonstrated his skateboarding skills. In addition to these two winners, scholars chose to sing, and play the piano and other musical instruments. The winning scholars received top scores for their stage presence, technical correctness, and overall quality. The winning scholars will receive a prize.
"Congratulations to Thasya and Justin-Daniel for being selected as the winners of our Bi-Annual Virtual Talent Show," said J.J. Lewis, CCS Superintendent & CEO. "We challenged all of our scholars to share their special talents with the entire Compass community. These scholars, along with all of the show's participating scholars, met that challenge and have a done an amazing job sharing their talents and inspiring their peers. Thank you to all of the scholars, parents, and staff who watched the talent show and supported the performers. I know I am speaking for all of our Compass community when I share that we are so proud of everyone's creativity and hard work. It was truly amazing watching everyone share their talents earlier this month!"
CCS is proud of all the participating scholars for sharing their unique talents and for supporting the performers. CCS continues to offer scholars the opportunity to play a leading role in their school community and encourages scholars to express their creativity and share their school spirit.
About Compass Charter Schools  
Compass Charter Schools (CCS) is a WASC-accredited virtual personalized learning public charter school serving thousands of scholars throughout the state. Catering to TK-12 grade scholars, CCS offers the choice of either their homeschool or online academic program. CCS is committed to creating a collaborative virtual learning community, inspiring scholars to appreciate the ways in which arts and sciences nurture a curiosity for lifelong learning, and preparing scholars to take responsibility for their future successes.
For more information about CCS, visit www.compasscharters.org, via Twitter (https://twitter.com/CompassCs), on Facebook(https://www.facebook.com/CompassCS/) or on Instagram (https://www.instagram.com/compasscs/).