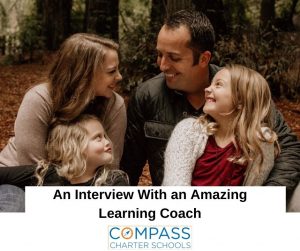 I had the privilege of interviewing Online Learning Coach, Annalee Petersen, for this week's blog. She had a unique story to share about what brought her to Compass Charter Schools (CCS)!
Hi Annalee! How long have you been doing the CCS Options Program?
This is our first year doing the Options Program, our second year schooling from home.
What made you chose Compass?
I love the idea of being able to go with the pace my children need. When they aren't understanding a concept, we slow down. When a concept comes easily, we can move on. Compass gives me so much support, and my Educational Facilitator Allison Barett has been my LIFESAVER!  When I need help, she has the answers or finds them for me, that was the support I needed since I'm not a professional. 
How did your child do in the traditional brick and mortar schools?
They enjoyed a traditional school, enjoyed being with kids, and I loved that they learned to respect other adults. My oldest daughter was unhealthy, and shortly after we started at Compass, she was diagnosed with an autoimmune disease. Being at home all the time helped me figure out what she needed. Plus she would have fallen far behind because she needed to be home more. The Options Program has enabled my girls to stay on target and for me to be right in the middle of it!
What is your child's passions or hobbies?
My children are very different. My oldest is all about anything creative. She is in a photography class, piano class, theater class, painting class, and has taken a macrame (a crafting technique that uses knots to create various textiles) class this year! The fact that she has these options and can follow her passions is because Compass helps so much! 
My youngest is very physical and can hardly sit still! She is all about math, coding, and engineering! Yet she plays the piano better than her big sister! Being a part of all of these classes is my favorite part of them being home!
What are your passions or hobbies?
I love to be creative, as well. I weave, repurpose furniture, paint, woodwork, and knit. (When I have any extra time!)
Do you work as well as manage your child's schooling?
I do work. I manage the customer service department for a company called Lead Marvels. Fortunately for us, I have been working online for a few years now, so that I can weave it into our day. I work early in the morning, during recess, and then finish my workday when school is over for the day. 
Thank you for sharing your story, Annalee, we always love to hear how families choose Compass! To learn more about Compass Charter Schools visit our website or read more of our blogs!