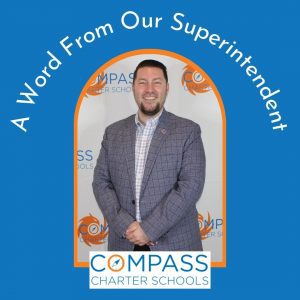 Welcome to an exciting year at Compass!
 I hope all of our scholars, families, and staff enjoyed your summer and perhaps got to get out, travel a bit, and are ready for the 2021-22 school year! Over the summer, Compass staff were busy developing new and exciting ways to enrich our personalized learning experience for our scholars and their families. We are looking forward to this new year filled with academic growth, opportunity, engagement, and new friendships! 
 Our school-wide WIG (Wildly Important Goal) focuses on scholar engagement in order to assist 100% of our eligible scholars graduate by the end of the 2021-22 school year! Our team is here to help! We dedicate every day to support our scholars to achieve success. In addition to the direct support scholars receive from their teachers, we offer them a devoted Counseling Services team that helps scholars plan their educational path, succeed in classes, and prepare for life after graduation. In addition, we continue to provide advanced support with our English Learning Support, Scholar Success, and Special Education teams to help guide scholars and families throughout their child's academic journey. 
As we gear up for a fantastic 2021-22 school year, I want to highlight our ARTIC core values of achievement, respect, teamwork, integrity, and communication. Our core values, along with our mission and vision, create the foundation for our working relationship with each other. So, please take a moment to journal on a core value that resonates with you this school year. Then, how can you expand on this value and grow even more this year?
We are thrilled to announce our first annual Weeks of Welcome (WOW) program, which started last Monday, August 23, and runs through this Friday, September 3! We kicked off WOW with our annual Welcome Back Nights for our Options Learning Program and Online Learning Program, while the rest of WOW has been filled with orientations, department open houses, and social hours. Visit ParentSquare to view the recordings and resources from all of these programs. Thank you for joining us at our first annual WOW!
Something that sets Compass apart is our Compass Experience. There are many ways to get involved at Compass with both fellow scholars and fellow parents. We're bringing our virtual community to life with more scholar clubs, virtual field trips, the Scholar Leadership Council, the Parent Advisory Council, and more. We will also encourage our scholars to embrace our core values by recognizing and celebrating scholars who exceptionally demonstrate these values through awards such as Scholar of the Month, Firebird of the Year, and others throughout the year. Parents will also have access to resources and advice developed by our staff to ensure a smooth and successful learning experience through our Learning Coach Academy. 
Thank you scholars and families. I look forward to seeing you in-person and on Zoom to share a successful 2021-22 school year with you! 
Compass Charter Schools (CCS) is a WASC-accredited virtual charter school that serves families throughout California. Have a question about our Compass Experience? Explore our website, or feel free to visit my webpage at https://www.compasscharters.org/about-us/superintendent-of-schools/.