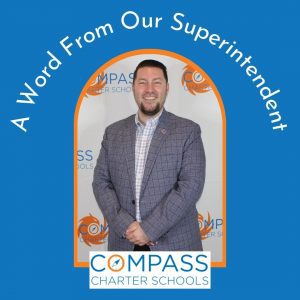 Greetings, Compass Family!
November is the month of giving thanks. I am so grateful to each member of our Compass Family – scholars, learning coaches, parents, staff, our Board of Directors, and the greater community. I am grateful and genuinely inspired by how we have united in common purpose to continue to be a leading WASC-accredited virtual charter school of choice. Thank YOU for your hard work and dedication! I am proud to witness our scholars and learning coaches' commitment towards reaching their educational goals. As we enter the remainder of this semester, it is essential to take the time to give thanks to all of our Compass family.
To kick off my gratitude – thank you to our Compass community for raising almost $260 through our Panda Express Virtual Community Fundraiser last month as we celebrated the 10th Anniversary of Compass! There were participants from across the United States supporting Compass, including individuals in Idaho and Kansas! We are so grateful for our families' support and the generosity of Panda Express, which supported our Loud and Proud and Rising Firebird scholarships for graduating scholars! 
 I would also like to share my gratitude with several of our scholars and parents, who shared their Compass Experience with PBS SoCal. Thanks to their stories, PBS SoCal was able to create several promotional videos to showcase Compass! Please check them out on our Testimonials webpage. I also give thanks to Alex Vazquez, online high school teacher, and our team at the Orange County Learning Center for their work on several promotional videos that are in the works! We'll have a virtual tour of the OCLC launching soon, as well as a few additional videos … stay tuned!
In November, we have so much to celebrate. I want to highlight a number of celebrations this month, including National Adoption Month, National Family Caregivers, National Gratitude Month, National Homeless Youth Awareness Month, and National Inspirational Role Models Month. At Compass, we are so fortunate to have the very best families, caregivers, learning coaches, teachers, and staff. We celebrate those who go above and beyond to support causes near and dear to them.
We continue to ensure that our scholars have the opportunity to grow and excel in all areas. For that, I am highly grateful to our counselors, English Learner Support, Scholar Success, Scholar Support, and Special Education teams. In addition, our teachers and staff are committed to serving as role models to help scholars learn and live our ARTIC core values of achievement, communication, teamwork, integrity, and respect. THANK YOU! 
I am also thankful for our families' partnerships and continued feedback during Coffee with Compass, Parent Advisory Council, Scholar Leadership Council, and Virtual Suggestion Box submissions. Together, we are creating an amazing Compass Experience for all of our educational partners, and for that, my heart is filled with gratitude!
This month, we highlight the Compass core value of Respect. We believe Respect to mean:
All community members keep an open perspective, assume the best in others, foster an environment of support, collaborate, seek to remove unconscious bias and personal agendas, pursue inclusivity, collaborate to achieve scholar success, keep scholars first, and connect actions back to mission and vision.
Scholars are listened to, understood, given undivided attention, provided recognition for their ability to learn and grow, provided support, encouraged and validated, held accountable with high expectations, and acknowledged for their background and identities in a culturally equitable manner to promote inclusivity.
Families follow through on commitments, are given consistent communication, offer timely feedback, collaborate across the Compass community, are treated as experts on their children, are given awareness of their personal situation and spaces, and are approached with an understanding of family dynamics and teaching philosophy, and space.
Staff teams foster trust, shared norms, and equal voice, participate in emotional rules of engagement, listen, participate with one another, lift each other up, pursue positive problem solving, accept vulnerability, and maintain confidentiality.
Colleagues understand different perspectives, seek to understand, believe in positive intentions, ask questions, and allow for positive conflict.

Supervisors meet deadlines, have open communication, ask questions, maintain transparency, help others understand the why, stay respectful of time, seek solutions, nurture relationships, and demonstrate humility.
I strongly encourage all of our Compass community to share what respect means to them this month and to continue respecting each other!
For our Fall Break, Compass will be closed from Monday, November 22 through Friday, November 26. On behalf of Compass's staff, THANK YOU for being an integral part of our Compass family!
Compass Charter Schools (CCS) is a WASC-accredited virtual charter school that serves families throughout California. Have a question about our Compass Experience? Explore our website, or feel free to visit my webpage at https://www.compasscharters.org/about-us/superintendent-of-schools/.