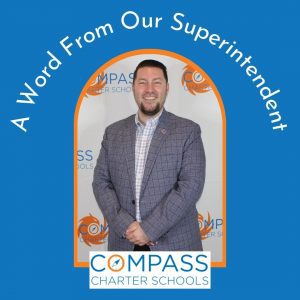 October 2021 is a month to celebrate a number of milestones at Compass. For me personally, I celebrated my sixth anniversary at the helm of Compass last Friday, October 1. For Compass, we celebrate ten years of serving and supporting scholars on Thursday, October 28! We'll be celebrating this milestone all month and, for that matter, all school year. As I reflect on the past and dream of the future, I am filled with so much pride in how far Compass has developed as a leader in personalized learning and what we have in store. I am proud of our mission, vision, and values, which guide our work each and every day. These guiding principles encompass the essence of feedback and input of scholars, learning coaches, staff, and community and serve as our guiding compass in all that we do. The ultimate goal at Compass is always to support our scholars along their educational journey and help prepare them for their future success.
There are a number of highlights to share as we celebrate ten years of serving and supporting scholars across the state of California. A few of these points of pride include:
The founding of Compass on October 28, 2011

Opening public charter schools in San Diego, Los Angeles, and Northern California

Receiving full WASC-accreditation for each of our public charter schools

Receiving NCAA accreditation for our core online high school courses

Launching our

Parent Advisory Council

and

Scholar Leadership Council

Creating, enhancing, and expanding our supports for our scholars through our

Counseling Services

,

Engagement

,

English Learner Support

,

Scholar Success

,

Scholar Support

, and

Special Education

Teams 

Becoming an

AVID

-certified virtual public charter school

Recognized as a leader in the personalized learning space by the community

Serving thousands of scholars in grades TK-12 across the state

Launching our

Strategic Plan

and vision for the future

And so much more!
As you reflect on the past ten years, what are some of your points of pride? I invite you to share your reflection on our commemorative FlipGrid (passcode Compass2021)! If you would rather write a note, please feel free and send it to me for our anniversary collection. 
Our 10th Anniversary starts this month and will last the duration of the 2021-22 school year! Throughout October, you'll see a special social media campaign, opportunities to connect and reflect, and much more. Towards the end of the month, we'll celebrate Spirit Week (week of October 25-29) and invite you to wear Compass colors (blue and orange) on Wednesday, October 27. We will also be hosting a fundraiser through Panda Express on Thursday, October 28, to raise funds to support our Loud & Proud and Rising Firebird scholarships for graduating seniors! 
This school year, I encourage scholars, learning coaches, staff, and the entire Compass community to share their Compass Experience whenever and wherever possible. I am inspired by everyone who helps us improve this truly amazing experience. Feel free to share your thoughts in either our Scholar Virtual Suggestion Box or Parent Virtual Suggestion Box.
At Compass, we have always believed in school choice. We continue to collectively build an inclusive virtual, nonclassroom-based, personalized learning public charter school that we can all be proud of – Loud and Proud! Compass's team is second to none, which is one of the many reasons I believe we are, indeed, the Gold Standard. 
Everyone at Compass helps ensure we create a quality Compass Experience for our scholars, parents, and staff. As we celebrate ten years together, let us appreciate one another for the collective work that has inspired this journey, and let us dream big as we think about where the next ten years will take us! Happy Anniversary, Compass!
Have a question about our Compass Experience? 
Explore our website, or feel free to visit my webpage at https://www.compasscharters.org/about-us/superintendent-of-schools/.