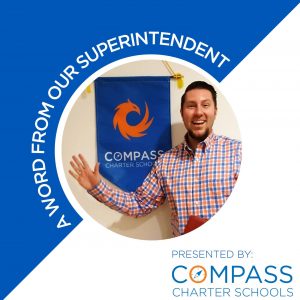 Hello March!
It is hard to believe we are already at the midpoint of our second semester at Compass and thinking about next year! This past Monday, March 2, marked the opening of enrollment for new families and re-enrollment for returning families for the 2020-21 school year. It is always wonderful to add new scholars to the Compass family as we prepare for a new year of learning. We also kick off re-enrollment for our current scholars! Scholars who complete re-enrollment before March 20 will receive a limited edition proud scholar t-shirt! I am proud of the Compass Experience we provide our scholars, and if this experience meets your educational needs, I hope you will continue to place your trust in our amazing team!
Speaking of our amazing Compass Experience, we are celebrating the honor of being featured in the Digital Learning Collaborative (DLC) 2020 Snapshot. CCS was chosen as one of two virtual schools to be included as a leader in online learning! The DLC Snapshot provides an overview of K–12 digital learning in the United States. Congratulations to my Compass family for being recognized for all the great supports you provide our scholars! 
As we think about the Compass Experience, the supports we provide as a personalized learning, virtual public charter school, and our recent recognition in the DLC 2020 Snapshot, where can Compass go next? As we think about transforming our world and transforming Compass, where do you see us growing? We encourage you to fill out our 2020-21 Planning Survey to help us prepare for next year and continue to make Compass a great place where all scholars can succeed!
CCS continues on an incredible journey as a proud Energy Bus School! We bring positivity to each day and operate from seven basic principles to hold ourselves, our scholars, and our learning coaches responsible for our own successes. This month, I encourage you to focus on Principle 5: Transform negativity – look at ways to turn challenges into great opportunities for learning and growth.
In March, we celebrate National Women's History Month. We honor the female heroes in our lives and the world. Women daily transform negativity and find ways to uplift their homes, workplace, and the world. To all the incredible females at Compass, we admire you!
Share your transformative stories with us on Facebook, Twitter, and/or Instagram! Keep up the great work in your classes, finish the school year strong, and don't hesitate to reach out to our amazing Compass team for any additional support.
Compass Charter Schools (CCS) is a WASC-accredited, personalized learning, virtual public charter school that serves families throughout California. Have a question about our Compass Experience? Explore our website, or feel free to contact me directly.