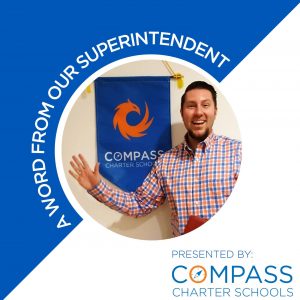 Welcome, April, as a Season of Hope to Scholars and Staff!
With school closures across the country, Compass Charter Schools can be seen as a beacon of light in this difficult time. Compass has been the leader in virtual learning over five years, and we have many great resources we provide our scholars and learning coaches. We are also proud to share our knowledge with the community, primarily through our weekly blogs. Please share these resources with family and friends. The latest issue of our Compass Chronicle is out; share the newsletter to learn more about our Compass Experience, how we are providing an amazing personalized learning experience to our scholars with our exciting activities, amazing staff members, scholar-led clubs, and virtual workshops!
It is our strong desire to continue to support our scholars, parents, and staff during this difficult time, while also doing our part to share our expertise with the entire community. I invite you to check out, as mentioned above, our blogs and also share with us what you might to learn more about. Throughout the month of April, we will be sharing blog posts which speak to and share experiences about virtual learning. We will share experiences from our scholars, parents, and staff, and hope these experiences will help show virtual learning can work and indeed does work! We are proud to share what we have learned, such as the Digital Learning Collaborate 2020 Snapshot, and offer suggestions as we can. 
As we embrace social distancing as a new normal for the time being, we need to find ways to support each other. We need to understand our feelings during this time and that this is hard on all of us, and truly affects all of us. Many of us are missing major life events, such as graduations, trips, weddings, reunions, and more. I encourage you to express these feelings with family members, counselors, teachers, and educational facilitators, whether through a call, email, or other forms of expressions such as art or poetry. Remember that this is only a brief time in our lives, and with a different mindset, it allows us to not only be reflective but also connect with others. 
As a proud member of The Energy Bus, we invite everyone to join us at the Energy Bus Rally this Friday, April 3, at 9 am! Continue to find the positive in each day and fuel your ride and the riders around you. As always, I would love for you to share your experience on the Energy Bus! Share what you're doing to have fun and enjoy your ride on Facebook, Twitter, and/or Instagram and how you have influenced those around you too!
Again, I realize this is a difficult time for many. I too have experienced personal impacts due to COVID-19, and realize we are each impacted in personal and profound ways. We will get through this, as a community. Our team is here for you – our scholars, our learning coaches, our staff, and our greater community. Be well, stay safe, and reach out if there is anything our team can do for you.
Compass Charter Schools (CCS) is a WASC-accredited, personalized learning, virtual public charter school that serves families throughout California. Have a question about our Compass Experience? Explore our website, or feel free to contact me directly.