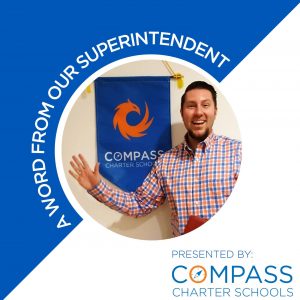 Welcome Back, Compass Family!
Our goal going into this new year is to be a model of strength during this unknown time. Our focus and what matters most is, as always, our scholars! This year, I urge you to pursue your virtual and personalized education with passion and pride and share your knowledge with scholars who are new to virtual and/or at-home learning. 
This summer, our teams have been busy updating systems, including Accelerate Education (new curriculum for our Online Learning program), VPM (new procurement platform for our Options Learning program), Lexia (new English Language Development (ELD) curriculum for our English Learners), and School Pathways (new Scholar Information System (SIS). We appreciate the patience of our scholars, parents, and staff as we work through the implementation of these new platforms and systems, all of which were planned and set into motion prior to COVID, and have each in their own way been impacted by COVID. Our incredible Compass team has really worked hard, alongside our partners, to prepare these platforms and systems for our scholars, and continue to work with our partners to trouble-shoot and resolve some of their functionality. 
In other exciting news, this summer, all Compass teachers participated in AVID's Digital XP training. We are proud to announce that we are a school-wide AVID (Advancement Via Individual Determination) school and 100% of our team is AVID certified! AVID is a nationally-recognized college and career readiness program that supports the implementation of teaching and learning strategies to K-12 and higher education scholars. We are thrilled to be able to use these resources to support our scholars throughout this school year!
Our Leadership Team participated in a book study on The 4 Disciplines of Execution throughout the summer. Our team is dedicated to serving our scholars and families in our ARTIC values of Achievement, Respect, Teamwork, Integrity, and Communication. We are very proud to announce that our school-wide WIG, our Wildly Important Goal, this year focuses on scholar engagement, in that 100% of our eligible scholars will graduate by the end of the 2020-21 school year! 
Something that sets Compass apart is our Compass Experience. There are many ways to get involved at Compass, with both fellow parents and fellow scholars. We're bringing our virtual community to life with more scholar clubs, virtual field trips, the Scholar Leadership Council, the Parent Advisory Council, and more. Parents will also have access to resources and advice developed by our staff to ensure a smooth and successful learning experience. We will also encourage our scholars to embrace these core values by recognizing and celebrating scholars who exceptionally demonstrate these values through awards like Scholar of the Month, Core Values, Firebird of the Year, and others throughout the year.
We dedicate every day to help our scholars achieve success. We are proud to offer scholars and their families flexible academic programs that best fit their individualized needs. We also offer scholars a devoted Counseling Services team that helps scholars plan their educational path, succeed in their classes, and prepare for life after graduation. We continue to provide advanced support with our English Learning Support, Scholar Success, and Special Education departments to help guide scholars and learning coaches throughout their child's academic journey. 
Last week, we held our Back to School Nights for our Los Angeles, San Diego, and Yolo charters to share important information, such as what to expect this first week of school, resources, support, and updates made to our program for the upcoming year. I encourage all of our scholars and their families to review these sessions in ParentSquare so that everyone is aware of the critical changes and exciting plans that we are launching this year.
This year we continue our journey as an Energy Bus for School, promoting a positive school culture and leadership within each individual. At Compass, we are each empowered to be the "drivers" of our own bus, on a road to promote positivity and take full responsibility for our thoughts and actions. Elementary-age scholars (grades TK-5), please take a few minutes to learn about Principle #1 – You're the Driver; secondary-age scholars (grades 6-12), please also take a few minutes to learn and practice Principle #1 – You're the Driver. Listen for the phrase "yes, yes, yes!" and you'll know you, too, are on the Energy Bus for a positive Compass experience!
Finally, I also encourage all of our scholars and their families to make connections this year and take advantage of all the resources and unique learning opportunities that Compass offers. I look forward to sharing a successful 2020-21 school year with you! 
---
Compass Charter Schools (CCS) is a WASC-accredited virtual charter school that serves families throughout California. Have a question about our Compass Experience? Explore our website, or feel free to visit my webpage at https://www.compasscharters.org/about-us/superintendent-of-schools/.