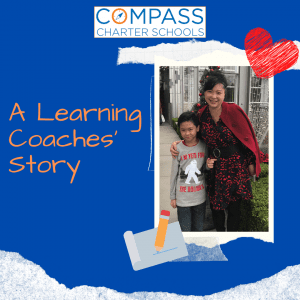 What is the Role of the Learning Coach?
At Compass Charter Schools, a home study Learning Coach (LC) is the role of the parent or scholar's caregiver. LC's must desire to have active involvement in their child's education daily and be fully committed to being the scholar's primary instructor. Our caring, credentialed Supervising Teachers (ST) provide ongoing guidance and support to the families. 
Scholars and LC's work with their assigned credentialed ST to develop a custom personalized learning plan for scholars. Throughout the year, families connect with their ST to discuss assigned work, manage progress, and review samples and activity logs. As an independent study program, the LC must work in partnership with the ST throughout the year to ensure the scholar is progressing at an appropriate pace. 
Each family is unique in their learning and teaching style. And each family is unique in their family situation and schedule. Our Options Program gives families a great deal of freedom and flexibility while still providing personalized support.
Elaine Kim's Story:
I am so grateful that I found Compass Charter Schools online as I was searching for a different online homeschool. My son Reilly and I choose the Options Program because the Community Providers offered a large variety of enrichment classes and extra-curricular activities. This program is working wonderfully for both Reilly and myself.
Being a kinesthetic and somewhat visual learner, Reilly likes to learn new topics using stimulating methods, not just by mundane black-and-white texts and workbooks. Dull presentations of contents are unapproachable for him. Compass offers many online curriculums via vendors and direct subscriptions that he spends hours on screen completely motivated and engaged! I do not have to put a rigid program in place; he is willing to do the online activities and looks forward to the rewards and fun games! He gets excited to see his accomplishments quantitatively.
After online and workbook work, (I try to choose colored texts), Reilly goes to YMCA, where he takes swim lessons and soccer. There, he meets friends and enjoys playing and running with them. He loves Exploring Learning with Friends class at Arbor; they introduce different exciting topics weekly. Not only is the subject taught, but they send home fun and presentable crafts and activities weekly.
As a part-time working mom, I can schedule and manage my time more efficiently with the Options Program, believe it or not. I dedicate three full days on teaching core subjects; Tuesday, Thursday, and Friday mornings for three hours using Plato and Education City. After a lunch break, we usually do two workbooks (five pages each). We catch up on fun supplemental online activities, such as Reading Eggs, ABC mouse, and BrainPOP in the evening after sports. On the days of the week that I work, I send him to onsite enrichment classes and after school soccer drills and swim practice.
I love teaching my child with Compass; is it takes out the afternoon and evening business of homework, like at a brick-and-mortar school. Eight years ago, I had to run to the store with my older child to buy materials and the library to finish projects and homework, usually after work. I felt that this busywork often took away time from learning core and important concepts. I instead use this time for Reilly to get further enriched with lessons.
This Options Program gives me the flexibility to schedule Reilly's school hours, even with my two days of work a week. We can accomplish and enjoy a non-stressful schedule. I enjoy teaching and tutoring my son and working with the wonderful educational facilitators, teachers, and staff at Compass. Thank you for all your support, and we genuinely appreciate the Compass Options Program!
Thank you so much for sharing your story Elaine Kim!
To inquire more about our programs, please contact Enrollment today!
Follow us on Twitter, Facebook, and Instagram!