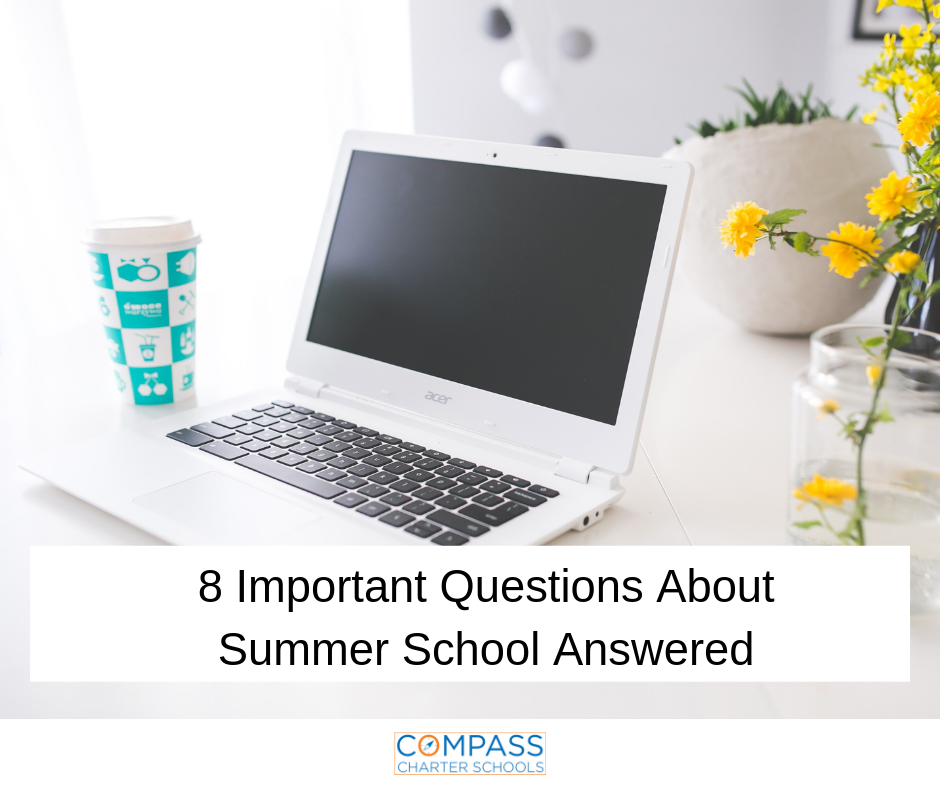 Is your high school scholar looking to catch up or get ahead on their academics this summer? If so, then Compass Charter Schools (CCS) is the place to be! If your child has never taken an online summer school course before, they probably have a few questions. That's why we've gathered the eight most commonly asked questions and answered them below!
How much does an online summer school course cost?
We often hear this question, and the answer is two great words: tuition-free! CCS is a year-round public charter school, and we offer all of our courses (even summer) completely tuition-free for scholars throughout California.
When is the deadline to register?
The deadline to register for our summer school program is 12 pm this Thursday, June 20. After completing our online registration form, families will receive a message from our enrollment team with further instructions. All documents required for enrollment in our summer school program will need to be completed and submitted by 5 pm this Thursday, June 20.
How many summer school sessions are being offered and how long is one session?
This summer, we are offering one online summer school session for high school scholars. The six-week session begins on Monday, July 1 and ends on Friday, August 9.  
What will their class look like?
High school scholars can say goodbye to spending long days sitting in a stuffy classroom all summer long. Instead, they enjoy the comfort of their home or get some fresh air at a coffee shop while they study and learn! As long as they have a laptop and Internet connection, they can learn wherever they feel most comfortable throughout the summer.
Plus, our courses are tailored specifically for each scholar! Instead of having to read an outdated, boring textbook, we keep them engaged through our 100% online, award-winning curriculum with teacher support, videos, and much more to help them get excited about learning!
How does my scholar communicate with their teachers?
We have a team of highly-qualified, state-certified teachers who are dedicated to helping our scholars catch up or get ahead. They will be able to contact their teachers via email, phone calls and chat messages during summer school. In many cases, our scholars report that they communicate with their teachers more during their online summer school program than during the regular school year.
My child has a summer job, can Compass Charter Schools work with their schedule?
Absolutely! In fact, we're probably their best option for summer school! While there will be about 15-20 hours of schoolwork they're expected to complete each week, they are free to work on their courses on their schedule. That's the beauty of a 100% online school!  
Will they be able to interact with classmates?
Of course! At CCS, there are several opportunities to connect with their classmates. They will be able to chat with scholars in virtual classroom discussions as well as on the community page of our Parent Scholar Portal, and more!
What courses are being offered this summer?
We are offering a variety of courses this summer including math, history, English and more! Check out a full list of our course offerings this summer!
Our online summer school session starts on Monday, July 1. To enroll, head to www.compasscharters.org or give us a call at 877-506-8631.
___________________________________________________________________________________________________________
Compass Charter Schools (CCS) is a WASC-accredited virtual charter school that serves families throughout California. Interested in learning more about CCS' flexible academic programs? Visit our website, or contact our enrollment team at [email protected] or (877) 506-8631.