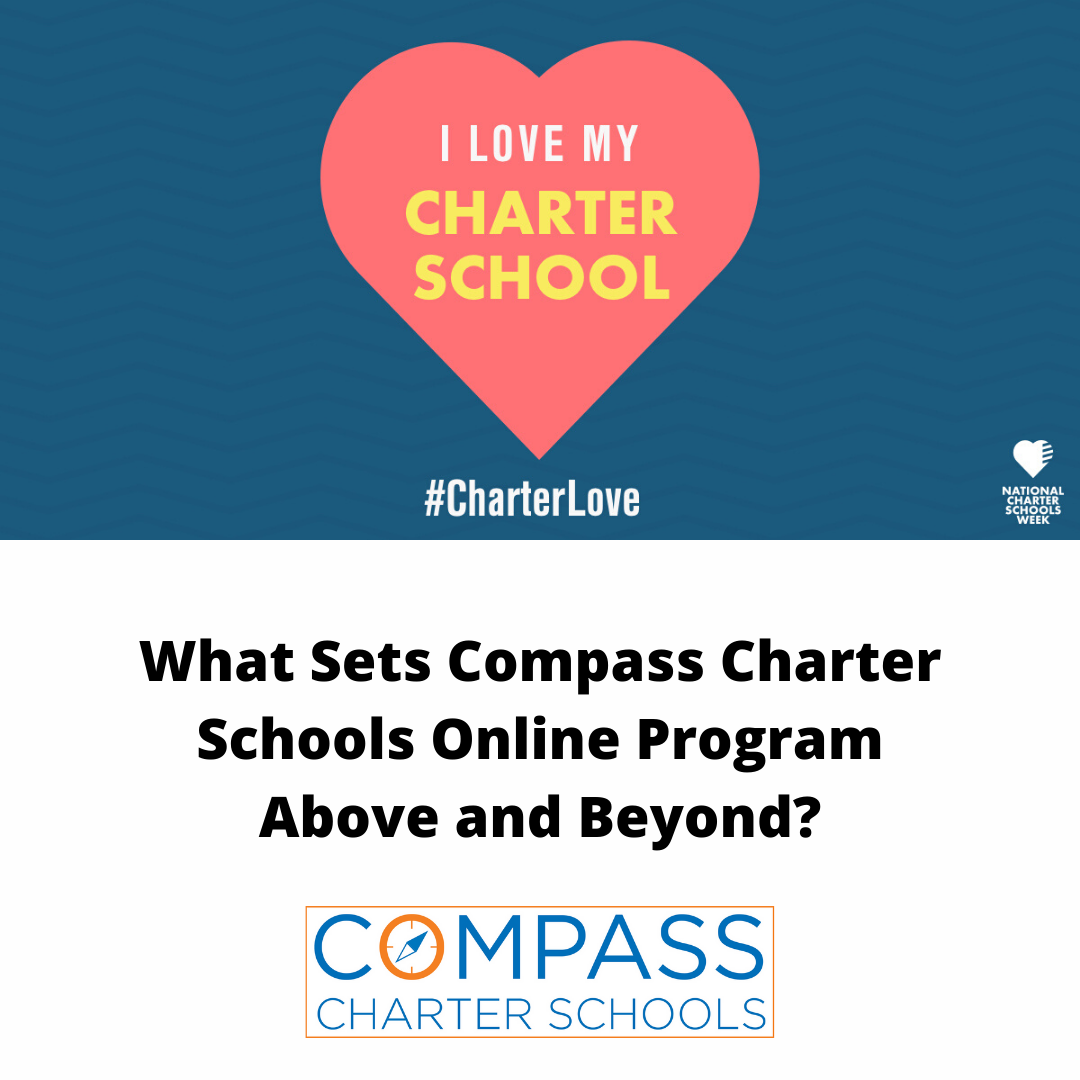 We offer a virtual education with caring, dedicated teachers who provide live online classes each week. In addition, teachers offer a weekly Q&A session to provide added support when scholars need more help with their work. High School courses are supported by subject-specific credentialed teachers, just as you would find in a brick-and-mortar school. Our teachers truly want to see each scholar succeed in Compass Charter School's Online Program.
Our incredible Online educators share why Compass stands out above and beyond as we celebrate National Charter Schools Week!
I absolutely love being a teacher at CCS because every day, I get a glimpse into my scholars' success. I get to come alongside them and help them to be successful in school and sometimes even life.
~Jennifer Tatum, Online Middle School Teacher
What I love about my job at CCS is the connection and impact I can have on scholars and their families. Many scholars come to our school because they are looking for an alternative to the traditional brick and mortar environment. It brings me such joy to offer a unique learning environment that allows them to flourish in a home setting while still enabling them to feel connected to their teachers and fellow peers. This approach simply works better for certain scholars. I love hearing the stories of scholars who are finding success and flourishing in our program.
~Lacey Lehman, Online Middle School Teacher
I love the connection I create with my scholars and how we can create new means of communication and cultural connections through learning a new language. The moment when I can talk to them in Spanish is such an achievement. It is also incredible to be part of their accomplishments when they graduate from our school.
~Alex Vazquez, Online High School Teacher
It's so powerful to have a dedicated team working towards providing a personalized educational experience that's just right for each child. I love all things Social Emotional Learning (SEL) and love to support scholars, parents, and other teachers nationally in the implementation of SEL as a foundation for learning.
~Crystal Villegas, Online Elementary School Teacher
Teaching at Compass allows me to have relationships with families all over the state. I always tell my families to do your best, and when you don't think you have any more to give, give a little more.
~Katherine Hooper, Online Elementary School Teacher
I love seeing our Online team come together and collaborate to put scholars first!
~Michelle Whitney, Online High School Teacher
I love helping scholars connect their interests to potential careers and mapping out their post high school education to achieve their dreams!
~Rosette Sowell, Online High School Teacher
I love the culture of family that exists here among colleagues and scholars alike. I've been in online teaching for almost eight years, and I've never experienced such a consciously cultivated environment and tightly-knit community as Compass. It's my home away from home, at home!
~Jen Hobson, Online High School Teacher
Thank you to our incredible Online Teachers for sharing your experiences. Our team is here for you – our scholars, our learning coaches, our staff, and our greater community, reach out if there is anything our team can do for you. 
Scholar Testimonial:
"I love the Compass curriculum's flexibility and the attention-to-detail and care that the staff gives to all students and parents! Ms. Rosen, my Social Studies teacher, has managed to make every single U.S. History learning lab an absolute blast! She is always there for every one of us, knows us on a personal level, and always makes us laugh and enjoy both ourselves and the lesson!
My advice for a scholar in the Online Program is to give themselves time to adjust and then do their best to make a schedule and stick to it as best as possible. I suggest that they reach out to their teachers and introduce themselves, and get to know them better during learning labs – which they should always attend! I have thoroughly enjoyed being a part of the Scholar Leadership Council for the past three years, and have taken pride in doing my part to better the school. I have also been extremely thankful that CCS has held field trips to baseball games, as it helped me find a new passion in my life (and a possible career path)!"
~Elizabeth C., 11-grade Online Scholar
If you are interested in learning more about our Compass Experience, join us for one of our upcoming virtual information sessions! Ready to join our Compass Family? Enroll today!