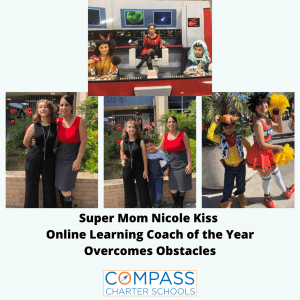 Nicole Kiss is a Super Mom! She is busy raising a seven-year-old autistic son and daughter Alexa, a sophomore at Compass Charter Schools. This is Alexa's first year at Compass and she has had an incredible year.
Nicole ultimately chose Compass by evaluating several online programs. Nicole found that many of the other schools she looked at were very stand alone in their offerings. It was important for her to find a charter school that was interactive and up with all state standards. She also had a friend whose children go to Compass. Nicole wanted an infrastructure that would support her and her daughter and communicate effectively. Her daughter Alexa is very computer savvy, so as Nicole read more extensively about Compass' Online Program, she knew that it would be a great fit.
Alexa had a physical injury in 2017; she fractured her spine vertebrae on a trampoline practicing flips for her dance program. This made it very difficult for her to handle her brick-and-mortar school without elevators. Also, at her school, there was not a lot of flexibility or understanding of her being in pain or her regular doctor appointments.
Compass has proven to be the perfect match for Alexa. With the online school, if Alexa is in pain, she can make up her lessons later. The teachers are wonderful, very communicative, and helpful. Compass does an incredible job unifying the whole school, with the teachers, counselors, special education, engagement, clubs, and more.
Alexa has always done very well academically and socially, but not so much after the accident. It was challenging for her, and she developed anxiety, fear, and her grades suffered. The accident happened when she entered high school, which was difficult, with high school being intimidating all on its own. Alexa loved dancing and drama at school, but she could not participate in them after the accident.
Compass turned her world around. Alexa is now thriving, much more confident, and excelling in school. She loves to draw, create art, and write her own stories. Alexa also enjoys reading and the theater. Compass has given her the confidence to pursue many different subjects and excel in her art and writing.
Our Super Mom Nicole worked in radio and acting in Los Angeles, before becoming her autistic son's full-time caregiver. As Alexa's learning coach, she looks over her work and curriculum but does not hover, because she wants to give her daughter some autonomy. Nicole goes over notes, they have a shared planner, and she talks to Alexa's teachers all the time. Alexa's social anxiety made it difficult to communicate with her teachers in the past, but Compass has been amazing. Her biology teacher, Mr. Spink and her homeroom teacher, Ms. Amari, have all been amazing, communicative, and put Alexa at ease. She also has access to her teachers via text, so this makes them very accessible.
Thank you so much, Nicole, for sharing your unique story. We are honored to have Alexa as part of the Compass Family and excited to see where her future lies. To learn more about Compass Charter Schools or enroll with us, please visit our enrollment page.