School Board Recognition Month: A Word From Our Board
January is a special time to celebrate Compass Charter Schools' (CCS) hard-working board members and the vital role they play in the communities we serve and the three schools we operate. We spoke with some of our current board on their "why" for serving as board members at Compass. Although showing appreciation is a year-round process, taking advantage of School Board Recognition Month assures that these important leaders receive some of the thanks they deserve! 
The theme this year for national School Board Recognition Month is "Navigating to Success." Compass has done just that during this challenging time. We have shared our expertise in personalized learning and have helped navigate the seas of virtual learning! And our board members have done a terrific job in helping to steer and adjust our sails where needed!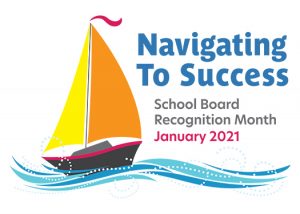 Compass celebrates our community volunteers who dedicate countless hours and resources to ensure quality education is available for scholars. The current
Board of Directors
consists of community leaders who are passionate about public education. The directors are Thomas Arnett, board member; Cori Brooks, board secretary; Bill Dennett, board treasurer; Randi Pugh, board member; Martin Suarez, board chair; and John Vargas, board member.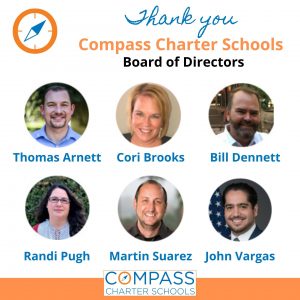 Arnett shares, "My work as an education researcher focuses on studying innovative models of schooling and instruction. After learning about Compass, I was excited about its unique approaches and wanted to help support its work. My favorite part of Compass is how the leadership and staff are continually looking for new ways to better support scholars. I am new to Compass this year, so my top priority is learning about Compass and getting to know the people who make Compass what it is. I am proud to be working with a school with a bold mission to inspire and develop innovative, creative, self-directed learners, one scholar at a time. Compass is all about offering scholars and families a flexible educational experience that can adapt to their needs rather than requiring them to conform to a rigid and standardized education system."
Dennett shares, "I joined the Compass board because I am a long time supporter of charter schools and school choice; so when the opportunity came to be a part of such a high-quality and scholar-focused school, I jumped at it! I love that Compass gives so many opportunities to their scholars. As a board member, I hope to learn even more about Compass and see how I can help them grow and thrive. Compass is dedicated to its scholars and transparent in all operations. There are so many great programs for all scholars, no matter their background, interests, or education level."  
Pugh shares, "I was inspired to join the Compass board as a result of my activity in the Parent Advisory Council, and my desire to be a voice for our Compass parents in a meaningful and collaborative way. I love that Compass is a scholar focused school that promoted individualized education. My goals as a board member are to be a diligent listener and intentional questioner. There are so many factors in any given situation that it is important to see them all before you truly understand. Compass serves as the Gold Standard in education, and this has been in sharp evidence this past year as we observe scholars, teachers, and staff across the country struggle to find their footing in an online environment. Compass has modeled how quality and excellence in virtual education is achievable. Compass is a school that puts scholars first, involves families in meaningful ways, and is always looking for ways to improve."
Suarez shares, "I joined the board at Compass because I wanted to provide a meaningful contribution to our community. I also wanted to demonstrate how a charter school can be of great support to districts. My favorite thing about Compass has to be how they treat each scholar as if they are the only scholar at Compass. I believe in this idea of treating every family as the only family at Compass. The attention that each team provides to support each scholar is unique. Every employee here truly cares about our scholars. I have seen in person how much they work to make this charter school better."
"Thank you to our board members for taking time out of your busy schedules to share and serve on our board. Compass is proud to honor you and celebrate each of you during National Board Recognition Month. Our Board shows continued dedication to ensuring consistent growth of our educational programs and services to best support our scholars and their families," shares J.J. Lewis, CCS Superintendent & CEO. "On behalf of the entire Compass community, I would like to express our most sincere appreciation to Thomas, Cori, Bill, Randi, Martin, and John for their continued dedication and service to Compass and their guidance to enhance and expand the Compass Experience for our scholars, learning coaches, and staff."
Currently, school board members face unique challenges and changes. They are tasked with making tough decisions with limited budgets while continuing to provide quality education for scholars. To learn more about Compass Board of Directors and their backgrounds,
visit our website.
Our board does an excellent job of helping our scholars navigate to success! Thank you.