As we celebrate ten years of dedicated virtual and personalized learning at Compass Charter Schools, we highlight a fantastic family: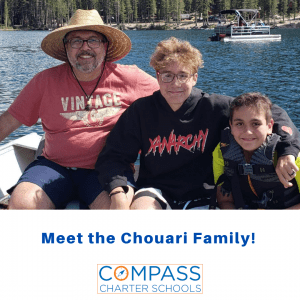 Carrie Talcott, their supervising teacher, shares, "The Chouari family were in my homeroom last year. They are a wonderful family dedicated to success in our program. Andrew's mom works with him and is an excellent learning coach. She is always available to discuss his progress and is committed to doing whatever it takes to help Andrew."
Andrew's learning coach and  Mother shares, "We are a family of four, with two boys Andrew (12) and Alex (17), myself and my husband, Gus. We enjoy the outdoors, fishing, hiking, kayaking, and going to the beach. We like checking out new spots along the California coast. We are both self-employed, which makes it easier to help our scholar with Compass and gives us the flexibility to be adventurous.
Here is our interview with the Chouari family. Andrew is an exceptional scholar, with an incredible family supporting him!

What made you decide to send your scholar to Compass Charter Schools? 
We decided to send our son to Compass for many reasons. One of the main reasons is flexibility. He can work on things he struggles with longer without the pressure of pushing through it rapidly if he doesn't understand the material. 
How long has your scholar attended Compass Charter Schools? 
This is his second year at Compass.
What has been your favorite stand-out moment at Compass? 
Andrew participates in Chess Club, Science Experiments Club, and Virtual Field Trip Club. He has made friends from the clubs and enjoys being a part of them.
Can you share with us a success story about your scholar? 
My son has a learning disability and has struggled to keep up in regular brick-and-mortar elementary school. He is a very bright student but does need to slow down when he doesn't grasp something. Traditional brick-and-mortar school sometimes moves too fast and doesn't have the option to slow down for struggling scholars. I knew that sending him to middle school this way would have been a problem. Compass Charters has been a perfect match for him. I can assist when necessary, and he can reach out to the teachers if he doesn't understand. He can move reasonably at his pace, and this helps him so much! He made honor roll last year, and I watched him grow and understand what he was learning. This school has an excellent support team! 
What is your proudest moment as a parent/learning coach at Compass? 
When we are working with my son and seeing him grasp something new.
In your opinion, why is Compass the Gold Standard in virtual learning? 
Compass is the Gold standard in virtual learning because it has excellent learning material and a great support system, and of course, its flexibility helps with pressure and anxiety. In addition, Andrew has an excellent counselor, Kiki Helton, and special education case manager, Elise D'Agostin, who genuinely support his needs. 
What do you say to those considering pursuing an online education? 
Go for it; give it a try! It's not for everyone, but it was perfect for us. If you have a K-8  scholar, they will need a parent or learning coach to assist a little and help them stay on track. They also have online clubs and amazing field trip opportunities!
Any other fun memories to share? 
Our son loved the Compass table cooking class. He made banana chocolate chip muffins and loved it!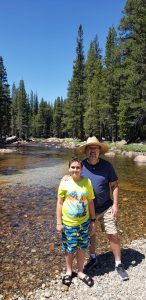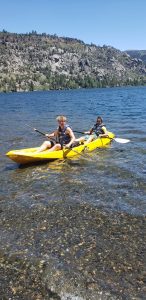 Thank you for sharing your incredible story with us, the Chouari family! And for being a part of the Compass Family, as we celebrate ten years of putting scholars first!
For more information, visit About Compass, and follow us on social media via Twitter, Facebook, and Instagram.