Homelessness in California has drastically increased over the last several years. It's not surprising that California, the largest state, has the biggest homeless population in the country. But while about 1 in 8 Americans lives in California, more than 1 in 4 homeless Americans live here. –Cal Matters. There were 183,312 homeless scholars enrolled in school last year. –California Department of Education.
The McKinney-Vento, Homeless Assistance Act, was initially passed into law in 1987, and (McKinney-Vento Act) (42 U.S.C. § 11431-11435) is federal legislation that ensures the educational rights and protections of children and youth experiencing homelessness. It requires all local educational agencies (LEAs) to ensure that homeless students have access to the same free, appropriate public education, including public preschools, as provided to other children and youth. The McKinney-Vento Act defines LEAs as public school districts, direct-funded and locally funded charter schools, and county offices of education. 

Homelessness amongst youth has many definitions, including sharing the housing of other persons, economic hardship, and living in motels, hotels, trailer parks, or camping grounds due to the lack of adequate alternative accommodations. In addition, children who live in emergency or transitional shelters or are abandoned in hospitals, living in cars, parks, public spaces, abandoned buildings, substandard housing, bus or train stations, or similar settings, and migratory children are also considered among the homeless.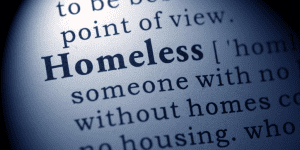 At Compass, our McKinney Vento Program offers a multitude of resources for scholars and families experiencing homelessness or at risk of homelessness. This program ensures that children and youth experiencing homelessness are protected with the rights to enroll or stay in school, even when housing becomes uncertain.
Compass protects the dignity of families in transition by following McKinney-Vento procedures (including confidentiality), especially if a child is living in a shelter, motel, vehicle, trailer or on the street, in an abandoned building, campground, or any other inadequate accommodation, including "couch surfing" (having no permanent address), or living doubled up (or tripled up) with friends or relatives due to loss of housing, economic hardship or a limited income in an area with a severe shortage of affordable housing.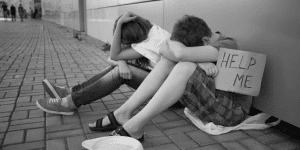 Under McKinney-Vento law requirements, a scholar or family may qualify for certain services during the school year. As a result, Compass may be able to provide services, including a computer loan program, internet reimbursement program, earbuds, referrals to emergency or transitional shelters, referrals to counseling for scholars, and referrals to other community resources.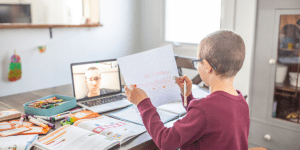 Karla Gonzalez, our Scholar Community Advocate, supports and advocates for McKinney Vento scholars and acts as the liaison between Compass staff, scholars, families, and community agencies. She maintains cross-program collaborations with community agencies and develops community partnerships to provide services for our scholars and families. Karla works with youth and families experiencing homelessness or at risk of homelessness and links them to resources. She also works with foster youth and foster families and is the primary contact person for new and current military families and the liaison for the Purple Star Program.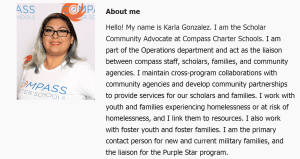 Karla shares, "I work with families by checking in with them. I sometimes do weekly check-ins with them. In addition, I call shelters, food pantries, rapid housing, and emergency housing programs to assist families living in shelters or in their cars. Right now, I am working with community organizations that offer holiday baskets, gift cards, etc., and I will send these resources to the families."
We thank Karla for all she does and her incredible service to scholars. Please contact her for any further information at kgonzalez@compasscharters.org.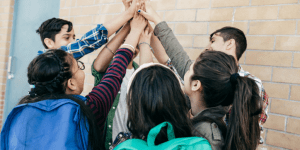 Resources
Compass Scholar Community Advocate Website
Compass Scholar Community Advocate Virtual Office
Compass Needs Assessment Form 
CA Department of Education Resources for Homeless Children and Youth
McKinney-Vento Act: Quick Reference
About Compass
Compass Charter Schools' celebrates 10 years as the Gold Standard in Virtual and Personalized Education. Serving thousands of scholars throughout California, we support each TK-12 scholar and learning coach with in-house counselors, talented accredited teachers, and staff of excellence. Compass is beyond unique and impressive as the only Purple Star School in California and one of the few online AVID programs in the nation. Rise and Soar with our Firebirds – Enroll today!
Do you have a Compass story to share? Contact Kimberly Aguilar, Community Relations Coordinator, at kaguilar@compasscharters.org! And share your Compass experiences and follow us on Twitter, Facebook, and Instagram.