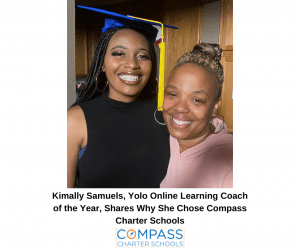 Kimally Samuels, Yolo Online Learning Coach of the Year, is truly an exceptional woman! Kimally is a Marriage and Family Therapist with a private practice in California. She also works for Contra Costa County Children's Mental Health as an Emergency Foster Care Case Manager. Kimally took guardianship of her godchild, scholar Jahve, last summer and enrolled her in an Economics class through Compass. Jahve enjoyed the summer course so much that Kimally decided to enroll Jahve for her senior year at Compass.
Kimally shares that Jahve is very advanced for her age. Jahve took the summer economics class for convenience, and it gave her the opportunity to focus on school. Jahve was the recipient of bullying at her brick-and-mortar school, for her intelligence and maturity. Kimally shares that Jahve is very articulate, aware, insightful, and thinks about things in a unique way.
Jahve aspires to be a Nuclear Engineer. She loves to sing and act. Jahve was going concurrently to junior college while a senior at Compass. She was the youngest in the chemistry class, and was tutoring others in chemistry! 
Kimally herself is a planner; she loves order, creating things, planning parties, birthdays, and celebrations. She loves people and is a therapist by trade. As a learning coach, Kimally saw herself as Jahve's assistant, making sure to keep up on her attendance, check that she was studying, and making sure that she was keeping up on daily assignments.
Jahve received early acceptance to Spelman College, but ultimately chose Agnes Scott College in Georgia, because they pursued her and provided an incredible scholarship. Jahve will also have the opportunity to participate in a dual study program with Georgia Tech University. She will major in nuclear engineering.
Kimally shares, "We are just so appreciative of Compass, the staff and counselors were so on top of everything and provided so much support. We could reach out to our counselor, Ms. Olson, at any time, and Mr. Samples was also amazing. Our teachers were wonderful and what an incredible staff! We were so surprised and honored by the graduation box, what a gift! Everyone should look into Compass, for us, it was a much better option than our local high school or a private school. I wanted Jahve to be able to focus first on school, her greatest passion. I know that Jahve will one day do something to change the world." 
Thank Kimally for sharing your inspiring online learning coach story! To learn more about Compass Charter Schools or enroll with us, please visit our enrollment page.