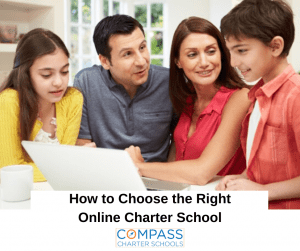 Virtual and at-home education is on the rise. Parents have many schools to choose from if they decide to enroll their children in a virtual or at-home school, from charter schools, homeschools, virtual schools, or a combination. Choosing a school that's the right fit for your scholar can be overwhelming. 
Here are Five Key Points to consider when choosing the right school for your scholar and you:
 1.
Are You Looking for Virtual Study, Independent Study, or Live Instruction

First, review the school's website and see whether they use an online learning environment, live, or if students will learn in an independent study setting.
Compass Charter Schools has two programs, Online and Options, for grades TK-12.
Our Online Program utilizes several curriculum partners and tools which provide rigorous instruction for scholars in an online environment. We offer a virtual education with caring, dedicated teachers, who provide live online classes each week. Also, teachers provide a weekly question and answer session to provide added support when scholars need more help with their work. High School courses are supported by subject-specific credentialed teachers, just as you would find in a brick-and-mortar school. Our teachers genuinely want to see each scholar succeed.
The Options Program partners with home study families to provide flexible options for scholars to thrive academically, socially, and emotionally. This program allows parents to be fully involved in all aspects of their child's daily education. Parents must be fully committed to:
Select and implement appropriate curriculum from the approved community provider list. 

Create a compelling learning environment every school day.

Provide challenging lessons and experiences for learning, according to the scholar's personalized learning plan.

Strive to be the best primary instructor for their scholars.
 2.
How Does the School Communicate?

Research how the school communicates with scholars and parents. Do they post a newsletter, blog, or school news stories? Read the blogs and articles, and get an idea of what type of scholars attend, and what is important to the school. Review the calendar of events to see if the school has options that interest you. Take a look at their clubs, field trips, groups; notice if there are ones that appeal to you. Check out the school on social media, what does the community have to say, what does the school promote?
Check out Compass' school news, blog, and social media: Twitter, Facebook, and Instagram! Review our calendar and engagement opportunities.
 Contrary to popular belief, charter schools offer scholars, parents, and teachers many opportunities in-person to get together and build friendships and lasting relationships within the school community.
 3.
Is the School Accredited?

Outstanding schools take time to earn accreditation. If accredited, the school will have the accreditation logo prominently on their website and in their literature. School accreditation inspections are rigorous. If you notice a school accreditation logo on their website, take the time to visit the accrediting website and review their accreditation criteria. 
 Compass is a WASC and NCAA accredited school. And Compass is Aplus+ Member School.
 4.
What are the Teacher's Qualifications?
Review the staff's credentials. You may also be able to see photos and read brief biographies of teachers. These biographies may include the teacher's school email address as well.
Review all about our Compass staff here. Scholar to teacher ratio for Online classes is 25:1. We also have Spanish speaking teachers to help with our ESL scholars.
 5.
What Curriculum is Used?
Finally, search the school's website for curriculum descriptions. Read descriptions for all the courses that your scholar will be enrolled in to see what they will be learning. Review the curriculum, how it was chosen, and the standards used to create this curriculum. Does the school's curriculum teach scholars the same information that your state's board of education lists in their academic standards, or are there gaps?
Learn more about our high quality of standards Options and Online curriculum. We work with gifted scholars, and special needs scholars; provide tutoring and counseling services. We also have extensive college preparatory and AVID courses.
In addition to what is discussed above, be sure to ask about any further concerns you may have. Ensuring that you enroll your scholar in the best possible program is always worth the extra research. 
Because of the progressive nature of virtual public schools, there is considerable misinformation or inaccurate perceptions about how they work. The following facts will help to clarify. Public virtual schools are public schools. They are not private schools. Although virtual public schools may contract with private vendors to receive curriculum and management services, they are governed by public entities such as public school districts, non-profit charter school boards, independent, and state education agencies. Some key points to note:
Teachers are responsible for overseeing and managing scholar learning and for ensuring that scholars meet all academic progress and accountability requirements.

All scholars must participate in state assessment tests.

All scholars must meet attendance requirements.

Schools are subject to federal AYP goals under No Child Left Behind.

Any eligible scholar may enroll, regardless of income, race, academic ability, special needs, etc.

Special education needs, IEPs, and other related needs are identified and met by the school's special education department.

State reporting is mandatory, and schools are subject to audits.
Tips From Compass Staff
To finish our blog, we have some excellent tips from our Compass Staff on choosing the right school for your scholar:
I talked with a prospective family yesterday, and they shared a few distinguishing features that they consider when looking for an at-home program via charter:
1. What vendors are offered
2. Subscriptions available
3. Transparency of the school
4. Requirements for parent submissions (samples etc.)
Amy Wormald, Educational Facilitator
First, decide what type of charter you are looking for; online, homeschool, blended, or on-site. Once you determine that, you can move forward with other questions, such as curriculum and freedom to choose, versus a school curriculum, courses available, funds, support from a teacher, A-G or NCAA courses, field trips, schedules for online classes, learning labs, and more.
Beth Sneyd, Assessment Coordinator 
In choosing a school, I would say to know your priorities. I have a family another school keeps trying to recruit, but the learning coach tells me all the things this school mentions as a positive, do not interest her at all (in-person meetings, unschool friendly, etc.). If you know what you are looking for, then matching the school becomes easier.
Holly Dong, Educational Facilitator
As a parent, I want a school that provides the biggest tent possible. My children are incredibly diverse learners, and what one needs is not the best for another. I also value the ability to choose electives that are of personal interest and keep at least some of our schooling delight driven. The other piece for families enrolling is having a teacher they trust and respect.
Karissa Hyross, Educational Facilitator 
Coming from a parent perspective, I want a school that will offer my scholar and myself support and guidance to promote our educational goals. Those goals being, curriculum choice, vendor options, supportive various learning styles, and my philosophy of education or pedagogical approach. It helps to identify your scholars and your needs before you can look for the right fit.
Sandy Lee, Educational Facilitator
I followed my heart! I listened to it to a virtual information session and felt like the teachers presenting, Janae Smith, High School Coordinator, and those supporting the call were all very real, warm, and competent. I knew that we were in! And then it took me four more seconds to realize that I also wanted to work here! Plus, the team of Mandi Schwartzberg, counselor, Amy Wormald, Educational Facilitator, Karissa Hyross, Educational Facilitator, put this Mom of a highschooler at ease. The amount of knowledge and resources provided was a pleasant surprise. And through the IEP process, Jennifer Vega, Special Education Instructor, was patient and calmed all my worries.
Vanessa Beyer, Admissions Coordinator
Thank you to our staff for your valuable insight! To learn more about Compass or enroll with is, please visit enrollment on our website.