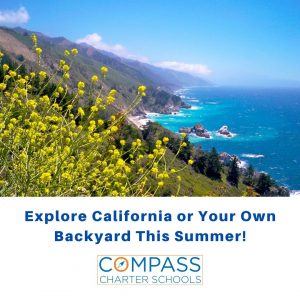 Summer is almost upon us! What is everyone going to do? Are you having a hard time deciding what to do or where to go? Well, in this blog, we have provided great places to visit in beautiful California, along with some fun stay-at-home ideas! 
California is a paradise; from the snow-capped mountain ranges to untouched beaches, there is no shortage of places to discover and enjoy. You can spend an entire childhood in California without experiencing all that there is to do. Scholars can learn and explore these places before they are all grown up!
Natural Wonders to Explore!
Balboa Park
San Diego

Balboa is a beautiful location for family fun, with museums, sculptures, parks, theaters, and the zoo! It is an ideal environment for scholars to learn and play. Located in San Diego, near the San Diego Zoo and Safari Park, you can spend an entire week in Balboa Park exploring the surroundings.
More info:

https://www.balboapark.org/
Bass Lake

Bass Lake
Bass Lake is a spectacularly beautiful lake just eleven miles from Yosemite park. There are many fun activities to do, from boating, water skiing, hiking, wakeboarding, jet skiing, fishing, and more. There are also many fun summer camps in the region. Stay and explore Yosemite National Park and the rest of the Sierra Mountains.
More info:

https://basslakeca.com/

Calico Ghost Town

Barstow
Near Barstow, the Calico Ghosts Town is a preserved mining town from the late 1800s. Scholars will love feeling as though they are transported back in time to the wild west. The architecture is perfectly preserved; you can visit an old mine and walk down the main street. And rumor has it that the town is haunted, and what child doesn't enjoy a good ghost story?
More info:

http://cms.sbcounty.gov/parks/Parks/CalicoGhostTown.aspx
Crystal Cove State Park

Laguna Beach
This extensive set of beaches is over three miles long and is an excellent place for scholars to explore and enjoy. Build sandcastles, swim, explore tidepools, go boogie boarding, or explore one of the inland trails. There is a nearby campsite or stay in one of the local lodges built in the early 1930s.
More info:

http://www.crystalcovestatepark.org/
Golden Gate Bridge

San Francisco
The Golden Gate Bridge is a California icon, and it is spectacular to see. Ride a bike across the bridge or take a ferry underneath it. Take the three-mile round-trip walk on the bridge if your family is up to it! If you want to capture a great view of the bridge, head to the Marin Headlands or Vista Point for a less crowded view.
More info:

http://www.goldengatebridge.org/

Joshua Tree National Park

Joshua Tree
Joshua Tree National Park is one of the most unique experiences in California. It has a transverse of two climates, Mojave and Colorado. There are many geological features, animal species, and trees to explore. You can camp at one of the many campsites, mountain bike, or hike the hundreds of miles of trails. The most iconic site, the Joshua Tree, can be found throughout the park and is a funky piece of nature that your children will love to photograph. Be sure to visit Skull Rock, Keys View, Cottonwood Spring, and Black Rock Canyon.
More info:

https://www.nps.gov/jotr/index.htm
Julian

Julian
Julian is a little piece of heaven in California; from their incredible pies to a hands-on gold and gem mine, there is so much to see. You can explore fruit orchards and walk through this quaint town. Julian is the type of place that fosters freedom and old-time activities that many don't get a chance to experience often.
More info:

http://www.visitjulian.com/
La Brea Tar Pits

Los Angeles
During the ice age, animals fell into the La Brea Tar Pits and were preserved for modern discovery. You can see the remains of dire wolves, a saber-toothed cat, bison, sloths, turtles, and an American lion. With many excavation sites still waiting to be uncovered, discoveries are possible daily! There is a 3D theater where you can imagine how life once was in the observation pit and see over 650 species of fossils. Scholars will love learning about the process of fossil excavation and preservation through a guided tour that gives an inside look at the pits. Plus, scholars can watch real-life paleontologists work on new sites.
More info:

https://tarpits.org/

La Jolla Shores and Tide Pools

La Jolla
Scholars will love this safe and beautiful beach to play and explore. This beach is a relaxing and beautiful spot, from exploring the wildlife to building sandcastles, swimming, surfing, or playing at the local playground. With many hotels close by, you can spend a relaxing week or weekend getaway in gorgeous La Jolla.
More info:

https://www.sandiego.gov/lifeguards/beaches/shores
Lake Shasta

Shasta
Lake Shasta is one of California's largest and most pristine lakes, surrounded by wilderness, and an incredible place for family bonding. You can rent a houseboat and cruise around the beautiful coves. Go swimming, fishing, hiking, stand-up paddleboarding, and so much more. Create fantastic family memories complete with campfires and s'mores.
More info:

http://www.shastalake.com/
Lassen Volcanic National Park

Mineral
The Lassen Volcanic National Park is quite a unique experience! With boiling pools, mud pots, volcanic gas vents that are all powered by a hydrothermal system. Scholars love learning about volcanoes and experiencing their intense power. Families can hike along the trails and walk over the boardwalk to the Big Boiler, a cauldron of boiling water, mud, and steam. The Boiling Springs Lake is another site nearby, with a bubbling lake that reaches 125 degrees.
More info:

https://www.nps.gov/lavo/planyourvisit/exploring-the-hydrothermal-areas.htm

Santa Monica Pier

Santa Monica
The Santa Monica Pier, just south of Los Angeles along the ocean, is a vibrant and exciting place to explore. The pier has arcade games, a diner, ferris wheel, and carnival rides. There are street performers and artists happy to share their work. Grab a bite of classic carnival fare and take a free historical walking tour to learn more about the pier's intriguing history. Scholars will have a fun day building memories in one of California's most iconic piers.
More info:

http://santamonicapier.org/
Sequoia National Park

Sequoia
Sequoia National Park is home to the sequoia, the most giant tree in the world. There are thousands throughout the park, with wildlife using them for food and shelter. With many hiking trails, campsites, and natural springs, this park is a majestic experience. Your scholar will have a new appreciation for nature and a sense of amazement and adventure after leaving this incredible park.
More info:

http://www.visitsequoia.com/Sequoia-National-Forest.aspx
Turtle Bay Exploration Park
Redding

This 300-acre park has a museum, arboretum, a sundial bridge, botanical gardens, and a wildlife center for scholars to explore and learn an appreciation for the natural world. The park prioritizes playfulness and sustainability as its core values.
More info:

http://www.turtlebay.org/about/mission

Yosemite National Park
Yosemite National Park has hundreds of miles of hiking trails that weave past waterfalls, wildlife, lakes, and rivers. Scholars will love exploring around the enormous sequoia trees and learning about nature. It's a California icon that has inspired artists and outdoors people for centuries. Camp, swim, fish, hike, and take pictures. Teenagers who love a physical challenge should climb to the top of Half Dome. You can do a multi-day hike along the John Muir Trail or camp at one of the main sites and do day trip explorations.
More info:

https://www.nps.gov/yose/index.htm
Now…some fun summer activities to do right at home:

Arrange a Scavenger Hunt
Every scholar loves a good scavenger hunt. Set up these free activities indoors or outdoors and let your scholars find hidden objects with clever clues. 
Build a Backyard Bonfire
Bring out the s'mores supplies and gather around the bonfire! Scholars can recreate the feeling of summer camp by telling stories, roasting hot dogs, and singing campfire songs. 
Build a Backyard Obstacle Course
There is nothing more fun than a backyard obstacle course. Live out your ninja warrior dreams! Construct with ropes, sticks, hoses, hula hoops, and any materials from around the house to build your course. Scholars can take turns completing it—and the person with the fastest time wins a prize! 

Decorate Rocks
Collect rocks around your neighborhood or on local trails. Bring them home and decorate! Use paint, stickers, markers, glitter, and more! Display the finished rocks around the home, start a rock trail in your neighborhood and encourage neighbors to create and add their rocks. Enjoy this super fun experience and treat anyone who is walking by!
Learn Cooking Skills
This fun summer activity for scholars also has a practical purpose: Teaching little ones to cook. Choose a favorite food—such as grilled cheese or cookies—and make it with your child. Let your scholar explore their cooking skills and perhaps a potential passion.
Participate in Community Park Activities
Community parks offer an endless array of free and low-cost summer camps and activities—including swimming, sports leagues, arts and crafts, music, tennis lessons, and nature programs.

Plan a Bike Parade
Encourage your kids to decorate their rides with streamers, stickers, flags, and more—then let them cruise around the neighborhood to show off their creations.
Tour a Police or Fire Station
Do you have an aspiring firefighter or police officer? Take a tour of your local emergency station! Since most locations don't have set visiting hours and rules for making on-site visits may have changed amid COVID-19, call ahead to arrange an appointment.
Tour Your Hometown
You don't have to leave town to go on a vacation! Visit local landmarks, call the historical society for hometown trivia, and ask a neighbor for her favorite restaurant recommendation to try somewhere new.
Finish the year off strong Compass scholars, and have an amazing summer!!