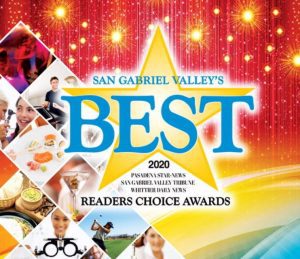 Thousand Oaks, CA – Congratulations Compass Charter Schools; voted as the BEST Charter School in the San Gabriel Valley by local residents for the 2020 Readers Choice Awards hosted by San Gabriel Valley Tribune.
The 2020 Readers Choice is an annual award that highlights a wide range of people, places, and events that have all been voted for by local residents. The highly anticipated magazine was recently released with a formal announcement of the winners being recognized as this year's Readers Choice Awards.
"It is an honor to receive this recognition," shares J.J. Lewis, CCS Superintendent & CEO. "We are proud that the San Gabriel community voted Compass Charter Schools as one of the best charter schools! Our top priority is to provide an engaging virtual learning community for scholars to receive the best education that fits their unique needs. I am proud of our Compass Experience, proud of the staff who deliver this experience to our scholars, and incredibly honored that we were selected for this award."
About Compass Charter Schools
Compass Charter Schools (CCS) is a WASC-accredited virtual personalized learning public charter school serving thousands of scholars throughout the state. Catering to TK-12 grade scholars, CCS offers two personalized learning programs. CCS is committed to creating a collaborative virtual learning community, inspiring scholars to appreciate the ways in which arts and sciences nurture a curiosity for lifelong learning and preparing scholars to take responsibility for their future successes.
 For more information about CCS, visit www.compasscharters.org, via Twitter (https://twitter.com/CompassCs), on Facebook (https://www.facebook.com/CompassCS/) or on Instagram (https://www.instagram.com/compasscs/).