FOR IMMEDIATE RELEASE: August 31, 2022                                         
CONTACT: Kimberly Aguilar, (805) 341-4689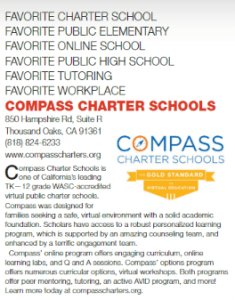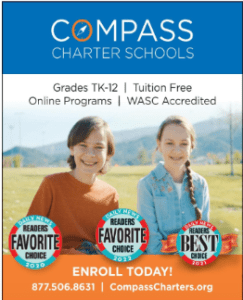 Thousand Oaks, CA – Compass Charter Schools (Compass) has been voted as a FAVORITE CHARTER, PUBLIC, & ONLINE SCHOOL, along with FAVORITE TUTORING & WORKPLACE by the readers of the Los Angeles Daily News in their Readers Choice 2022 program! This marks six years of recognition by the Daily News.
For the past 22 years, the Daily News Readers Choice Awards have showcased the very best of San Fernando Valley and surrounding areas. This coveted and highly anticipated list includes the names of a wide variety of people, places, and things that readers chose as the best of the best in 2022.
"We are ecstatic to receive all this recognition," shares J.J. Lewis, Superintendent & CEO. "We are proud that the readers of the Los Angeles Daily News have voted for Compass as a Favorite School in the categories of Chater, Public, and Online! And that they have honored our tutoring program and Compass workplace. We are truly a Compass Family, and our top priority is to provide an engaging virtual learning community for scholars to receive the best education that fits their unique needs. We love our community and all the supporters of Compass."
About Compass Charter Schools
Compass Charter Schools is a WASC-accredited virtual personalized learning public charter school serving thousands of scholars throughout California. Catering to TK-12 grade scholars, Compass offers two personalized learning programs. Compass is committed to creating a collaborative virtual learning community, inspiring scholars to appreciate the ways in which arts and sciences nurture a curiosity for lifelong learning, and preparing scholars to take responsibility for their future successes.
For more information, visit About Compass, and follow us on social media via Twitter, Facebook, and Instagram.