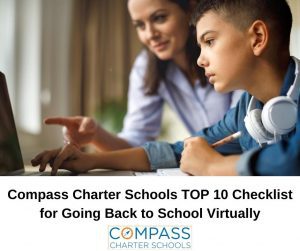 At Compass Charter Schools, virtual education is our specialty. We know that for many scholars, this is the first time that they have ever experienced online learning. Compass shares some of their expert tips on going back to school virtually. We are here for all scholars during this challenging time. We want to help make going back to school enjoyable, hopeful, and help scholars thrive! Check out our TOP TEN checklist to help you get organized before you start your adventure in virtual learning!
1) Most importantly, make sure that you have a reliable computer and internet connection and access. 
You will need a computer that operates at a high speed and can handle a variety of programs. You do not have to buy the latest and most expensive computer, but make sure that you can get your work done with minimal issues. Check with your school, as many schools have computer loan programs. It is always good to have a flash drive and save all your documents, just in case your computer crashes, and you lose important files. 
2) Make sure that you have a comfortable chair.
With virtual learning, you may spend more time sitting than you are used to; make sure to get up, take walks, and get exercise. You want a comfortable chair, easy to adjust, and level with your desk.
3) Create a workspace that works for you.
Carve out space in your home that feels comfortable and where you can focus and pay the best attention. For some, this is a busy area in the home, as they concentrate best when there is some action going on around them; for others, it is an isolated, quiet, and remote space, where they can maintain laser focus. It is never a smart idea to work on a sofa or bed because we associate these areas with rest and downtime, which does not help with your academics. 
Compass Teacher Tip~
Have a safe, comfortable space to learn!
Shalimar Slobojan
, OCLC Supervising Teacher
4) Find a great set of earphones or earbuds.
Getting a good set of earphones or earbuds will help drown out background noise and focus on the subject. You will also not be disturbed or disturb those around you.
Vice Principal Tip~ Headphones help scholars hear better AND help parents at home keep their sanity if multiple scholars are in various sessions! Karle Roberts, CCS of Yolo Assistant Principal
5) Get a working printer and printer paper.
Although many of your assignments may be submitted online, it is still helpful to have a printer accessible. You may want to print your syllabus, study materials, items for record, and more. 
6) Stock up on traditional school supplies.
Although most of your work will be online, you still want the basic school supplies, such as pencils, highlighters, binders, notebook paper, calendars, organization supplies, construction paper, etc. You may need to order additional materials or books for your classes. Order these right away; you do not want to worry about them not arriving before you begin the course. 
Compass Tutor Tip~
We live and die by our whiteboards. We write out each student's daily schedule, and then they get to wipe the items off once it is completed. 
Melissa Mayer
, CCS Tutor 
Compass Teacher Tip~
Have a notebook for each class!
Erin Thomson
, Middle School Teacher
7) Get an efficient calendar that works for you! 
When you get your course schedule, add all your courses to your calendar, jot down important information and dates, your teacher's contact information, and office hours. Keep this calendar organized with daily tasks, due dates, and critical deadlines.
Compass Teacher Tip~
Get an academic planner for you and your scholars! It's important to organize your week, and it will make your school year a lot less stressful! 
Kalpana Digiambattista
, Supervising Teacher 
Compass Teacher Tip~
Use Google Drive to stay organized!
Elaine Amari
, High School Teacher
8) Keep in communication with your teachers; they are here for you! 
Strong communication with your teacher is key, and often the most important thing you can do to start the new year. By keeping lines of communication open, your teachers can help you when you are struggling and develop your strengths. They can motivate you, mentor you, and help you to excel in their class. Never be afraid to approach your teacher and share your needs, concerns, and fears. 
Compass Teacher Tip~
Check-in with your homeroom/supervising teacher and ensure you are getting all of the communications sent to the right email!
Stephanie Lee
, Supervising Teacher
9) Do not forget about activities outside of school!
It is more important than ever to have activities outside of school to help you during these difficult times. With quarantine still in effect, find things that you can do. Go for walks, Facetime a friend, journal, write letters, set up an obstacle course in your backyard, scrapbook, paint, draw, read together, and there is so much more! Most importantly, mix up what you do because variety will keep you interested and help you cope during these challenging times. 
10) Enjoy this new time of flexibility!
If you stay organized through the school year, you will be able to enjoy the flexibility of virtual school. Take time to fully take advantage of your extra time by doing those things that have piqued your interest for a long time, but you just haven't had the time to accomplish. This is a great time to get to know YOU; what are your aspirations, goals, needs, strengths, weaknesses, future plans, and more?
Try to have fun during this time and remember to keep yourself motivated by providing incentives to reach your weekly goals. Obstacles will come up, but persevere and remember why you started this adventure in the first place. 
Please never hesitate to reach out to us with questions and read many of our helpful Compass blogs here!