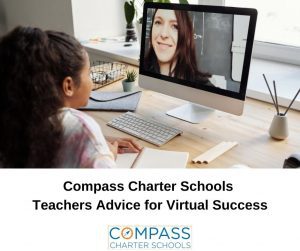 The new school year is almost upon us and has even started for some scholars at other schools. At Compass, we are always here to support scholars from all education models and backgrounds. We firmly believe in school choice and finding the school that best fits the scholar. With many scholars going back to school virtually this year, we have interviewed our incredible teachers at Compass for advice on success in a virtual, personalized, and at-home learning environment.
Jennifer Tatum, Middle School Teacher, shares that she loves being a Compass teacher because she gets a glimpse into her scholars' success every day. She gets to come alongside them and help them to be successful in school and sometimes even life. Her advice for scholar success is to be organized and create a routine. If a scholar has a daily routine that they follow, they will surely be successful in life and school. If they organize their schoolwork, work station, time, and schedule, they will rise high like a phoenix!
Karla Marroquin, Supervising Teacher, shares that she loves how supportive and collaborative everyone is at Compass. Her advice for scholar success is to keep in contact with teachers and communicate often. 
Kristin Valdez, Supervising Teacher, loves the flexibility and community of working at Compass. She encourages scholars to read. A scholar who loves reading and is good at it is more likely to succeed at anything. 
Katie Dickens, Supervising Teacher, shares that she enjoys having the ability to help a handful of learning coaches around California with their scholars' educational, social-emotional, and personal success. She suggests making personal and educational goals, pushing yourself, believing in yourself, finding something you love doing, and continuing to do it (education comes in many different forms)!
Grace Howieson, Supervising Teacher, loves being creative and thinking outside the box, allowing her scholars to grow and learn. Her suggestions for virtual learning is to use what scholars' love as a part of their learning. If they love music, write a song about their favorite character in a book or learn about the history of their favorite type of music. If they incorporate passion in learning, it becomes much more exciting to learn about a subject.
Lynn Jabuka, Educational Specialist in Special Education, shares that she is grateful when scholars who struggled in a lesson thank her afterward for her help in overcoming the challenge. For success, she shares to believe in yourself and persevere.
Kayla Sullens, Supervising Teacher, shares that she appreciates the community and support at Compass. She shares that communication is key to scholarly success. This can be accomplished with excellent and effective communication, both on a personal and professional level. 
Amy Wormald, Supervising Teacher, shares that she loves working with families to find the best curricula and activities for their individual scholar's needs. Her advice is to stay organized; doing school at home can be tricky because the days can blur together. Be sure to set goals and have a "typical" day planned out for the week. Have fun and follow-through with what is planned for that week. Week after week, a scholar will make progress towards goals and will increase in knowledge.
David Spink, High School Teacher, loves teaching with technology and making learning fun. He advises reading through all of the directions and emails that teachers send. Work daily and use the calendar feature to organize each day and week and find a daily routine that works for you. Furthermore, be persistent and do not give up when faced with a challenging project or task.
Carrie Talcott, Middle School Teacher, loves having the flexibility to work with young scholars in new and innovative ways. She shares it is important not to find worth in how others feel about you, but how you feel about yourself.
Sandra Valladares, Supervising Teacher, enjoys the relationships that she builds with her scholars, families, and co-workers at Compass. She advises scholars to communicate, communicate, and communicate! Keep in continual contact with teachers, to stay on the right track.
Jennifer Vega, Educational Specialist, shares that she loves how involved she gets with her parents. She enjoys seeing parents duplicate her strategy recommendations at home. For online learning success, she recommends creating a quiet learning space and setting a routine. 
Sandy Lee, Supervising Teacher, enjoys seeing her scholars grow academically and make real progress because of the input and guidance given by herself and teachers. She suggests to be diligent and persevere. 
Marcela Troup, Supervising Teacher, loves that in the Compass's community, everyone is willing to help, and it makes work so much better. She advises to trust your instincts and not be afraid to make mistakes. Mistakes help us learn the most.
Wendy Guzman, Supervising Teacher, shares that she loves the Compass community and being able to help and guide scholars. She tells scholars always to do their best, remain positive, and look for the good in people and life. 
Stephanie Lee, Supervising Teacher, shares that she loves being able to support and meet new scholars and parents. She recommends staying in close contact with everyone who cares about you (parents, coaches, teachers, friends, and mentors) – no one has to do it alone, especially when you can assemble a strong team.
Alex Vasquez, High School Teacher, loves being a teacher at Compass and connecting with his scholars. His advice is to develop intrinsic motivation, work hard, and create discipline. By mastering these, a scholar can achieve all their educational goals. 
Jannelle Marquez, Supervising Teacher, suggests to stay laser-focused on academic goals and always be ready to learn because the world will never stop teaching.
Rosette Sowell, Online High School Teacher, loves helping scholars connect their interests to potential careers and mapping out their post-high school education goals to achieve their dreams. She recommends that scholars use a calendar, take focused notes, join a club, and communicate with teachers.
Lacey Lehman, Middle School Teacher, loves the connection and impact that she can have on scholars and their families. Her advice for scholar success is to jump right in. There is a learning curve and it takes time to adjust to an online program. But, there are many people, resources, and support in place to help scholars be successful. Do not be afraid to ask questions and reach out for help. The sky is the limit. The resources are endless. 
Penelope Pauley, Enrichment Instructor, loves teaching Drama and watching her scholars' incredible creativity blossom. They come up with hilarious ideas for characters, scenes, and scenarios. She recommends staying connected to people; they are our greatest strength. 
Jen Hobson, High School Teacher, loves the family culture that exists among colleagues and scholars at Compass. She has been teaching online for almost eight years, and she has never experienced such a consciously cultivated environment and tightly-knit community. She advises scholars to own their talents and gifts and grow them. Do not idealize how others excel, but stay focused on your strengths. Build on those strengths and be dedicated to being the best you every day!   
Thank you to our amazing teachers for sharing their experiences with educating online and in a home/personalized environment. We are fortunate to have experienced and dedicated staff here at Compass, who genuinely care about each scholar's success. We hope that their advice has helped as you endeavor upon a new and perhaps unknown school year. Please feel free to reach out to any of them or read more of our blogs, with additional informative, educational topics.