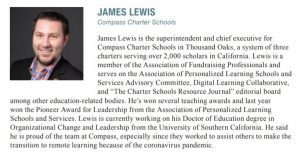 Thousand Oaks, CA – Compass Charter Schools (CCS) is excited to announce that its Superintendent & CEO, J.J. Lewis, has been named to the Valley 200 by the San Fernando Valley Business Journal for the second year in a row.

The July issue marks "the fifth annual Valley 200, a special standalone book featuring short profiles of the most influential leaders in the Valley area," shared Charles Crumpley, Editor and Publisher of the San Fernando Valley Business Journal. "Congratulations on your status as one of our area's most influential leaders!"

Lewis has served as the Superintendent & CEO of CCS since October 2015. He holds his Master of Arts in Educational Leadership from San Diego State University and a Bachelor of Science from Central Michigan University in history and political science. He has a Nonprofit Management Executive Certificate from Georgetown University and is a Certified Fundraising Executive. Lewis is currently working on his Doctor of Education in Organizational Change and Leadership from the University of Southern California.

Lewis is a member of the Association of Fundraising Professionals, Kappa Delta Pi Honor Society, and Phi Kappa Tau Fraternity. He serves on many boards and committees, including the Association of Personalized Learning Schools & Services Advisory Committee, Digital Learning Collaborative, El Dorado County Charter SELPA CEO and Selection Committees, The Charter Schools Resource Journal Editorial Board, and Wellness for Educators Advisory Board. Lewis is also on the Central Michigan University National Alumni Association Board of Directors, President of the Central Michigan University Mary Ellen Brandell Volunteer Center Alumni Affinity Chapter, and Phi Kappa Tau Fraternity West Coast Director.

"J.J. is passionate and driven in serving as an educational leader and visionary in education," shares John Vargas, CCS Board of Directors Chair. "He is a servant leader and commits time to get to know every one of his scholars and staff. He continuously is finding ways to better shape and enhance the Compass experience."

"I am truly honored to be named to the Valley 200 again this year," said Lewis. "I am a passionate supporter of school choice, and I am proud to serve as the leader of Compass Charter Schools. I am elated to be named an influential leader in the Valley, and I look forward to continuing to advocate for school choice across California."

To learn more about J.J. Lewis, visit his Superintendent of Schools page on the CCS website.

About Compass Charter Schools 
Compass Charter Schools (CCS) is a WASC-accredited virtual personalized learning public charter school serving thousands of scholars throughout the state. Catering to TK-12 grade scholars, CCS offers two personalized learning programs. CCS is committed to creating a collaborative virtual learning community, inspiring scholars to appreciate the ways in which arts and sciences nurture a curiosity for lifelong learning and preparing scholars to take responsibility for their future successes.

For more information about CCS, visit www.compasscharters.org, via Twitter (https://twitter.com/CompassCs), on Facebook (https://www.facebook.com/CompassCS/) or on Instagram (https://www.instagram.com/compasscs/).