FOR IMMEDIATE RELEASE: March 12

, 2021


CONTACT
: Kimberly Aguilar, (805) 341-4689
Thousand Oaks, CA – Compass Charter Schools is thrilled to announce that its Superintendent & CEO, J.J. Lewis, has been named a Top 100 Visionaries in Education by the Global Forum for Education & Learning (GFEL) for 2020-2021.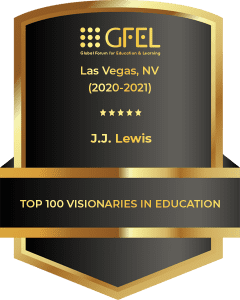 GFEL awards 100 top Visionaries in Education yearly. They highlight educational leaders, often the unsung heroes, for their unparalleled contributions by providing a platform for networking and learning amongst a closed group of award-winning peers from the industry. GFEL's continuous efforts are in building the foundation of a better tomorrow, and they launched this special recognition program in 2019 to honor educational visionaries' endeavors.
"J.J. is passionate and driven in serving as an educational leader and visionary in education," share Therese and Tony Christopher, members of the Parent Advisory Council (PAC). "He is a servant leader, and he always takes the time to listen to any suggestions or concerns that we have, as PAC members, learning coaches, and parents. He is continuously finding ways to better shape and enhance the Compass experience."
Lewis has served as the Superintendent & CEO of Compass since October 2015. He holds his Master of Arts in Educational Leadership from San Diego State University and a Bachelor of Science from Central Michigan University in history and political science. He has a Nonprofit Management Executive Certificate from Georgetown University and is a Certified Fundraising Executive. Lewis is currently finishing his Doctor of Education in Organizational Change and Leadership from the University of Southern California.
Aviva Ebner, Ph.D., Assistant Superintendent & Chief Academic Officer of Compass, shares, "J.J. is a unique leader in the fact that he genuinely cares about each and every stakeholder and strives to meet their needs. He reaches out to every network, colleague, and organization to gather as many varied resources as possible. He thinks outside the box and is not limited to a particular paradigm. J.J. lives and breathes Compass Charter Schools. It isn't just a job – it is his life." 
Lewis is a member of the Association of Fundraising Professionals, Kappa Delta Pi Honor Society, and Phi Kappa Tau Fraternity. He serves on many boards and committees, including the American Association of School Personnel Administrators Diversity, Equity & Inclusion Committee, Association of Personalized Learning Schools & Services Advisory Committee, The Charter Schools Resource Journal Editorial Board, and the Wellness for Educators Board of Directors. Lewis is also on the Central Michigan University National Alumni Association Board of Directors, President of the Central Michigan University Mary Ellen Brandell Volunteer Center Alumni Affinity Chapter, and Phi Kappa Tau Fraternity West Coast Director.
"I am truly honored to be named amongst 100 visionaries in education," shares Lewis. "This award is not due to my work, rather, the collaborative work of the entire Compass team who work tirelessly together to support our scholars and staff in support of our scholars. I am honored to be named an influential leader by GFEL, and I look forward to continuing to transform and improve virtual and personalized learning in California and beyond for many years to come."
To learn more about J.J. Lewis, visit his Superintendent of Schools page on the Compass website.
About GFEL
Education is one of the fundamental pillars of humanity, which holds the potential of empowering individuals and transforming their lives. Due to the great importance, it holds, imparting education is considered to be one of the noblest acts. As knowledge is gained by sharing, GFEL created a reliable collective ground where ideas meet possibilities. The objective for GFEL is to provide a platform for networking and learning amongst a closed group of award-winning peers from the industry. Keeping this objective at the center of their heart, they laid the foundation of GFEL. They endeavor to build a forum where like-minded people from the education sector come together and shape a brighter future for upcoming generations.
About Compass Charter Schools
Compass Charter Schools is a WASC-accredited virtual personalized learning public charter school serving thousands of scholars throughout California. Catering to TK-12 grade scholars, Compass offers two personalized learning programs. Compass is committed to creating a collaborative virtual learning community, inspiring scholars to appreciate the ways in which arts and sciences nurture a curiosity for lifelong learning and preparing scholars to take responsibility for their future successes.
For more information, visit About Compass, and follow us on social media via Twitter, Facebook, and Instagram.