FOR IMMEDIATE RELEASE: October 13, 2021
CONTACT: Kimberly Aguilar, (805) 341-4689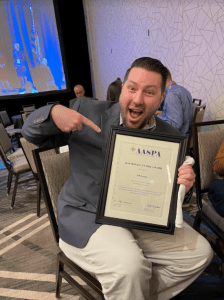 Thousand Oaks, CA – J.J. Lewis, Compass Charter Schools (Compass) Superintendent & CEO, is being awarded the 2021 Raymond E. Curry Award this week by the American Association of School Personnel (AASPA) at their Annual Conference in Washington, DC. This award honors Curry and his contribution as Executive Director of AASPA from 1986–1991. In addition, it recognizes Curry's encouragement and establishment of a successful professional development program for the association. 
The Raymond E. Curry Award is a competitive award granted to an AASPA member who is currently enrolled at an accredited university doing graduate-level research in human resource management or educational leadership with a focus on human resources. Lewis is finishing his degree requirements to earn a Doctor of Education in Organizational Change and Leadership from the University of Southern California. 
"Since he was appointed Superintendent & CEO for Compass Charter Schools, Mr. Lewis has embodied the meaning of transformational leadership," shares Sophie Trivino, Chief People Officer. "He continually leads with positivity and compassion and promotes our mission, vision, and values. Through his sustained efforts and commitment to move forward, he has contributed to the continued development and overwhelming success of the school, the staff, and most importantly, our scholars."
Candidates for the Raymond E. Curry Award are considered on the basis of how their research will impact the field of Human Resources. Lewis' research is on the perceptions of gay male K-12 employees regarding the inclusivity of their workplaces. His study purposes to define the meaning of inclusivity from the perspective of gay male employees in public schools as well as the role their leaders play in influencing inclusive workplaces. He believes his study will provide recommendations regarding the ways in which K-12 leaders can work to create inclusive workplaces based on the perceptions of their gay male employees. 
I'm so proud of J.J. for receiving this recognition. He is tackling such an important topic, and I'm honored to be working with him on his dissertation," shares Dr. Courtney Malloy, professor of clinical education at the Rossier School of Education at the University of Southern California. "His study is focused on amplifying marginalized voices in our public school communities, and his work will make a significant contribution to the field."
Lewis has served as the Superintendent & CEO of Compass since October 2015. He holds his Master of Arts in Educational Leadership from San Diego State University and a Bachelor of Science from Central Michigan University in history and political science. In addition, Lewis has a Nonprofit Management Executive Certificate from Georgetown University and is a Certified Fundraising Executive. 
Lewis serves on many boards and committees, including the American Association of School Personnel Administrators Diversity, Equity & Inclusion Committee, Digital Learning Collaborative, The Charter Schools Resource Journal Editorial Board, and the Wellness for Educators Board of Directors. 
"It is truly an honor to be awarded the Raymond E. Curry Award by AASPA," shares Lewis. "I look forward to continuing to transform not only virtual and personalized learning in California; but awareness and understanding of the work needed for my peers to create inclusive environments for our LGBTQI+ staff, so our great work can continue to positively impact scholars for many years to come."
To learn more about Lewis, visit his Superintendent of Schools page on the Compass website.
About AASPA
AASPA is the only organization that specifically targets and represents school personnel professionals. If you are a personnel/human resource administrator, personnel support staff, superintendent, principal, or graduate student interested in this field, you will benefit from AASPA membership. The association provides resources, professional development activities, and networking opportunities to help you do your job efficiently, legally, and effectively.
About Compass Charter Schools
Compass Charter Schools is a WASC-accredited virtual personalized learning public charter school serving thousands of scholars throughout California. Catering to TK-12 grade scholars, Compass offers two personalized learning programs. Compass is committed to creating a collaborative virtual learning community, inspiring scholars to appreciate the ways in which arts and sciences nurture a curiosity for lifelong learning and preparing scholars to take responsibility for their future successes.
For more information, visit About Compass, and follow us on social media via Twitter, Facebook, and Instagram.