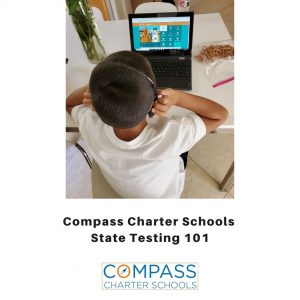 The Every Student Succeeds Act (ESSA) requires all schools and scholar groups to meet the 95 percent participation. The participation rate factor into the Academic Indicator on the CA Dashboard. Failure to meet the participation rate reduces a school's Academic Indicator. Participation rates are reported to our authorizing districts and are essential for our continued charter renewals. Parent exemption does not remove the scholar from the percent participation calculation. Please register for State Testing to support your scholar's growth at Compass. 
Why should I have my scholar test?
The teachers and staff at Compass Charter Schools are continuously gathering information and data about your scholar, so they can know and understand what your scholar needs to be academically successful. State Test scores are just one piece of the puzzle. We also use work samples, interaction with your scholar, quizzes, projects, writing samples, and benchmark assessments to get to know your scholar and truly personalize their education. If we are missing assessment data, we will not have a valid comparison of standards mastery from year to year.  
We do not just use the assessment data to personalize coursework; these test scores benefit our scholars in a variety of other ways: 
Counselors use the scores to determine appropriate placement in high school math classes.

Comparison of scholars' testing results over time is used to guide learning lab instruction, improve scholar learning, and give insight into college readiness.

Testing helps our school determine where to allocate resources for supporting scholar achievement.

Testing scores provide the public with information about scholar achievement at our school. 

Eleventh-grade scholars who meet or exceed standards can be categorized as Ready or Conditionally Ready for college. This may mean scholars can avoid the math and ELA placement exams upon entering California colleges.
What is a Standardized Test?
Many believe that a standardized test means every student across California is given the same test, regardless of level or ability. This is not the case with CAASPP testing. The CAASPP test is a Computer-Adaptive Test (CAT), and a Performance Task (PT) is for both ELA and math. The CAST (science) is also computer adaptive. This means that each scholar is given a test that adapts to them, and depending on how they answer, the difficulty of the test questions will vary to meet each scholar's level of ability. 
How can we prepare?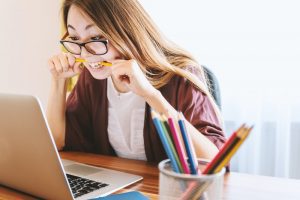 Practice and Training Tests. Scholars can log into the Practice and Training Test Site, log in as a guest, select a grade level, and select a test to take. Taking a Practice or Training test helps scholars become familiar with the test interface system and the available supports during testing (some supports require IEPs or teacher designation). 
What is the difference between Training Tests and Practice Tests?
Training Tests are shorter, arranged by grade band, and include new item types. Students can access and practice using all of the test tools, supports, and accommodations, which are not currently available on the Practice Tests. Training Tests do not include performance tasks (PTs). Practice Tests are longer and arranged by grade level. Practice Tests also include PTs.
Do You Have Test-Taking Anxiety?
Test-taking anxiety is worry or fear caused by having to take tests. Test Anxiety can cause mental distraction, physical symptoms like racing heart or nausea, and mental blocks. Test Anxiety can affect your performance on assessments. The pressure to perform well or fear of failure affects us all, even adults. 
What Can You Do About Test Anxiety?
Do not let fear become the only thing you think about; instead, focus on what you have to do to complete your work. Prepare, outline, and plan. All these organizational strategies can help you feel prepared for your exams. 

Try to relax: close your eyes and take deep breaths. 

Think positively: try to come up with a more positive thought such as, "I can do this" or "it was not as bad as I thought." 

Eat healthy foods, get fresh air, and exercise regularly. 

Get enough sleep, both before a test and regularly. It helps you function at your best every day! 
The Counseling Services department provides Stress-Management Techniques to help with Test-Taking Anxiety.  
There are even Apps for Relaxing available on your phone:
Take a Break

Mood Kit

Stop Breathe and Think

Self-help Anxiety for Management
Taking tests is part of attending school. If you are prepared, rested, and use stress-management tips, you can overcome your test-taking anxiety. 
Resources for This Testing Year at Compass
Science assessments (CAST) will take place for fifth grade, eighth grade, and high school. Compass has chosen 11 grade for the high school grade for CAST testing. 12-grade scholars will also take the CAST if they have not taken it previously in high school, whether at Compass or another school.
CAASPP Test window is April 12-April 30 (may be extended to complete testing, as recommended by the CDE). 
Grades 3-8 and 11 take CAASPP ELA and math. 
This year: Testing will be remote administration, with scholars testing in their homes.
CAASPP Site – https://www.caaspp.org/ 
Estimated Testing Time – This web page includes estimated testing time for CAASPP and ELPAC assessments. Estimated testing times are represented in hours and minutes: https://ca-toms-help.ets.org/spring-21-educators/instructions-for-remote/estimated-testing-time/.
CAASPP & ELPAC – Live streaming now – demonstration of remote testing: http://www.youtube.com/watch?v=CcIxxWdAMhk
FAQ document: Provides additional test-taking talking points, so you can address your families and their specific questions.
Today, the U.S. Department of Education Released Guidance to States on Assessing Student Learning During the Pandemic: https://www.ed.gov/news/press-releases/us-department-education-releases-guidance-states-assessing-student-learning-during-pandemic.
Thank you to Beth Sneyd, our excellent Assessment Coordinator, for all her help and guidance during this time. If you have questions, please reach out to her at bsneyd@compasscharters.org.