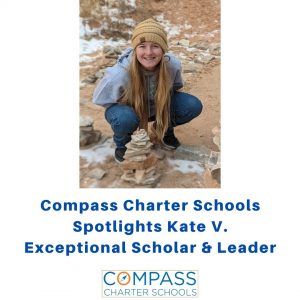 Today, for Charter Schools Week, we are spotlighting scholars who are doing great things! At Compass, we always focus on the scholar first, and everything we do has this in mind. This year we created two scholarships for graduating seniors – the
Rising Firebird Scholarship and the Loud & Proud Scholarship
. These are for eligible graduating scholars, and our
Parent Advisory Council
will review and select the recipients. These funds will help scholars in their future endeavors at university or in the real world. We are so Loud and Proud to be able to offer these types of scholarships to our exceptional scholars!
Today we shine a birth spotlight on Kate V., an exceptional Options scholar and member of our
Scholar Leadership Counci
l. Kate has a 4.0-grade average and excels in all her studies, most notably math, where she is taking high school courses. Kate is an avid reader and skilled violinist.  She participates in a mountain biking club and loves to play volleyball. Kate has been with Compass for four years, and we are honored to shine a bright spotlight on her this week!
Kate, what made you decide to pursue an online/personalized education?
The Compass Options program gives me so many options, whether it is simply learning from a textbook, learning online, through activities, programs, extracurriculars, and more. I love all the diverse possibilities and ways to learn at Compass.
What is your favorite part about Compass?
The community is fantastic. I love being involved in all the activities, such as scholar leadership. It is such an honor to give back to a school that does so much for me. Even though Compass is a virtual school, it feels like a family, everyone reaches out to get to know each other, and everyone is very involved.
What teacher has made a difference in your educational journey and why?
This teacher has made a difference in my education my entire life; she's my mom as well as my teacher. My Mother is Michelle Vreeman, Supervising Teacher here at Compass. My Mother inspires me every day with how hard she works and for Compass and her scholars. She has always supported me and has helped me through many challenging academic times. She always encourages me to work harder and to succeed.
What are your future goals?
First, I would like to graduate high school with a 4.0 GPA or higher; then, I would like to go to college and become an engineer. I honestly hope I can achieve these goals even though they seem massive and intimidating!
Favorite quote and why?

"The man who has no imagination has no wings."  ~Muhammad Ali
It's my favorite quote because I firmly believe we can do anything if we think outside the box. Anything is possible.
Why are charter schools important, and what are you doing to support Compass and them?
I think that charter schools are very important because they offer scholars an opportunity to flourish if traditional schools are not the right fit. I am supporting Compass by sharing my incredible experience. I know that charter schools are not the perfect fit for everyone, but it is worth trying, and scholars can decide for themselves.
Here are what parents and learning coaches are saying about Compass and our teachers:

"Andrea Lomeli, Middle School Teacher, we sincerely thank you for helping us through our first year with Compass! It's clear you have a heart for education, and it shines through in all of your communications with us." ~Emily C., Mother & LC
"Brenda Fletcher-Lasley, Supervising Teacher, my scholar Justin and I would like to thank you for doing an exceptional job at assisting and guiding us through this personalized school journey. You have helped me as a learning coach tremendously in making sure we're on the right path academically and making sure we were okay during these pandemic times. You are very encouraging to Justin whenever we have conference calls. Justin is very comfortable with you, and we both look forward to the next school year and onward. We appreciate you, Brenda! Many blessings to you and your family!" ~Jessica S., Mother & LC
"Danielle Arnheiter, a Supervising Teacher, has been so wonderful to work with! She shows genuine care for my scholar, and he LOVES teacher meeting days when he can catch up with her and show her all the things he's been working on. She makes meetings fun and encouraging. I really appreciate how timely she is with her replies to all my emails and questions. I always feel like help is an email away. And when I've had concerns or questions about scholar development, she is both knowledgeable and reassuring. We are so blessed to have Danielle!" ~Adrienne S., Mother & LC
"Georgina Ramirez, Supervising Teacher, Toda la familia Gutiérrez Figueroa estamos profundamente agradecidos con la Tutora Georgina en ella hemos encontrada un gran apoyo y un gran interés por el aprendizaje de Sebastián es muy alentador ver a mi hijo como a avanzado gracias al cobijo que ella le ha dado siempre está dispuesta a apoyar tanto en lo académico como en lo personal siempre que la necesitamos ella está ahí para poder resolver nuestras dudas y poder seguir avanzando su paciencia, profesionalismo y entusiasmo han logrado que estos años de trabajar junto con ella sean muy gratos Gracias." ~Sebastian G., Father & LC
(Translation: "Georgina Ramirez, Supervising Teacher, The entire Gutiérrez Figueroa family is deeply grateful to our teacher Georgina. In her, we have found great support and great interest in Sebastian's learning. It is very encouraging to see my son advance thanks to the support that she has always given him. She is always willing to support him both academically and personally whenever we need her. She is there to answer our questions and she is always patient, professional and enthusiastic. She has made these years of working together very gratifying. Thank you." ~Sebastian G., Father & LC)
"Sarah Eagleton, Elementary School Teacher, we appreciate how you explain technology so that we feel excited to try new things immediately. It's nice to have a teacher so passionate about equality. We love the way she makes every scholar feel gifted!" ~The Andersons
There were too many responses to share them all, but our Compass teachers are deeply loved! Spotlight your teachers and scholars today on social media, using the hashtags #ChooseCompass, #CompassExperience, #CompassLove, #CharterSchoolsWeek, and #CharterLove!