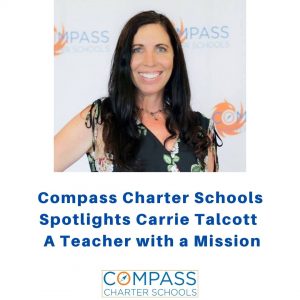 Today as we celebrate Charter Schools Week and California Day of the Teacher, there is not a better day to shine a Loud and Proud Spotlight on
Middle School Teacher,
Carrie Talcott! Carrie is
one of the warmest teachers you will ever meet. She is a passionate and devoted teacher who loves the flexibility at Compass, which enables her to work with young scholars in new and innovative ways. Carrie has been with Compass since its inception in 2012, and she shares that she has seen it change for the better. Some of these changes included adding more teachers on staff, more class options, scholar clubs, college preparation for high school scholars, a counseling department, and a special education department.
We caught up with Carrie in between her virtual classes:
What is your favorite part about working for Compass?
My favorite part of working at Compass is being a part of the development of new ideas and new program initiatives. The scholars are becoming more independent through our program, which is great to see as well. They are becoming more accountable for their education with the help of their teachers. Along with becoming more independent, scholars are learning to be problem solvers in this high-tech world by using different operating systems, logging into online sessions, and just figuring out how to solve computer issues when they arise. I am so excited to see how well our scholars will be prepared for their academic future.
What made you decide to get into teaching?
My Aunt Cathy inspired me to be a teacher. She had such passion for teaching and taught in the Inner City of Los Angeles. My Aunt helped start a science program at a magnet school. When I would go over to her house, she pulled out all her teaching supplies and asked me if I needed anything. I began to pretend that I was a teacher, and my sister was the student. When I was in college, I realized that I needed to get experience with children in general and decided to work at pre-schools as an assistant. Instantly, I was excited to help with lesson planning and creating bulletin boards. I would go home thinking of how the children would call me "Teacher Carrie" and how special it made me feel. I realized that I had made connections with these children and thought that I was making a difference in their lives, just being there to listen to them and experience fun activities with them. At that moment, I realized that teaching is what I wanted to do.
Why are you a supporter of charter schools?
First off, I have wanted to open a school for a long time. It has been my goal as an educator since about 2005 when I realized that something is missing in our schools. I felt that teaching children ethics and character development was the critical piece that children needed to succeed. If they learned how to treat others and work with others, they would be able to be much more successful in the real world. I guess it was my Christian education that made me realize that the public schools had terrific teachers, but something was missing in civics and moral development. I went to a private school, but I worked in public schools for many years. I saw the disparities, and I saw the gaps. I wanted to be involved in starting schools that genuinely served the scholars and provided a quality education. Why couldn't public school scholars have the same educational experience I had, but without paying tuition? My parents struggled to put me into private school, but some families do not have the means to do that. Therefore, so there can be more equity, these charters provide the second-best option for scholars that need a more private education but might not be able to attend private school.
What sets Compass apart?
I love Compass because the staff is always finding ways to make the school better. We work together for the goal of better serving the scholars, not our pocketbooks. No one comes to a charter school to make a lot of money. We are here because we love what we do and want to continue to improve as educators. We want to see the scholars succeed. When we first started the school, we had to work very long hours. Teachers did not get vacations or have "work hours." We worked around the clock to create a school that would successfully function with a solid education at the foundation. Yes, we made mistakes along the way, but we have learned from them. If we continue to stay scholar-centered, we are doing what we are supposed to be educators, innovators, and charter school teachers.

Carrie is pictured here teaching her scholars the dance moves for National School Choice Week 2020.
What is your favorite "teaching story" to share, be it funny, emotional, etc.?
I was substituting in a Middle School in Oxnard when I was still finishing up my credential. It was raining. We were in a portable, and I remember thinking, "Man, what a dreary day it is." I started to teach from their social studies unit, I shared some insight I had on the topic, of World Religions. All of a sudden, the children were asking me questions and getting really excited about the subject matter. At the end of class, even though it was raining and we were in a portable on the outskirts of the campus, the children said that it was the best day of school that they ever had. When I saw their joy in learning, I was happy, and it became one of the best days in my teaching experience.
Would you like to share anything else?
I think that some people might wonder, "Why Compass?" Well, you will have dedicated teachers working with your children. You will get a solid educational curriculum provided, with the technological expertise of the academic team. Your children will be provided with amazing counselors that truly care about the emotional well-being of your children. Also, the school constantly focuses on meeting the needs of "all the families." We take parent feedback and use it to provide the supports needed to help all scholars to be successful. That is why you should choose Compass for your scholar's needs.
In a previous blog, Carrie shared something that resonated with me; she said, "It is important not to find worth in how others feel about you, but how you feel about yourself."
Thank you, Carrie, for being a role model to so many of your scholars by pursuing your passion for teaching and making the world a better place, one scholar at a time. You are truly exceptional!
Follow Carrie on Twitter
to learn more about her!