Thirty years ago, in 1992, history was made in California when Governor Pete Wilson signed SB 1448, better known as the Charter Schools Act. Today, there are 630,000 students enrolled in charter schools in California and 3.4 million scholars attend charter schools in the United States.
All charter schools are tuition-free public schools—open to all scholars, regardless of their zip code. The charter school model empowers teachers to provide innovative, high-quality instruction and gives them the autonomy to design a classroom that fits their scholars' needs. Charter schools are led by dynamic leaders who have the flexibility to create a school culture that fosters scholar performance and parent satisfaction. Charter schools are held accountable to the performance standards they agree to in their charter and by their communities. ~National Alliance for Public Charter Schools
This year's theme for National Charter Schools Week is Charter Schools Rising. Charter Schools recently celebrated 30-years in 2021; the 2022 plan looks at the next 30 years of education innovation, freedom, service, and excellence. And the California Charters Schools Act (CCSA) explores how charter public schools are reimagining public education in ways that benefit California scholars. The celebration recognizes individuals who use their voices, platforms, experiences, and expertise to serve charter school families and communities and make a difference in the world. 
J.J. Lewis, Superintendent & CEO, shares, "In this milestone year, it is great to celebrate 30 years of public charter schools as we celebrate 10 years at Compass. I could not be more proud of the Gold-Standard Compass Experience that our team provides scholars, parents, and each other. As a staff, we live our mission, vision, and values all to support the academic journeys of those we serve – our scholars. Our scholars are at the center of everything we do. Congrats to the movement on 30 years, and congrats to our team at Compass for 10…and many more to come!"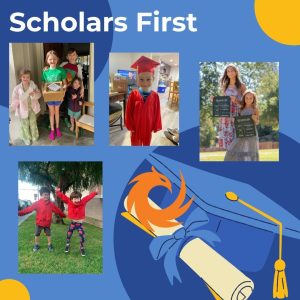 Compass Charter Schools exceeds expectations for how education can be taught through personalized virtual learning. Forming deep partnerships with teachers, scholars, and families, Compass responds to each scholar's unique needs, dreams, and background while preparing them to successfully pursue their goals after graduation. In partnership with families and dynamic staff, Compass brings a variety of teaching experiences, learning styles, and wrap-around supports to equitably serve California scholars along their educational journey.
Aviva Ebner, Assistant Superintendent & Chief Academic Officer, shares, "Summer 2021 changed the landscape of the non-classroom-based charter school world. Changes in protocols due to the pandemic were happening faster than anyone could track the impact of COVID continued to accumulate. Legislation passed and went into immediate effect that could have negatively impacted independent study and personalized learning programs. 
At Compass Charter Schools, our school staff has always found a way to rise above. They banded together, collaborated tirelessly, and worked harder than ever to ensure a successful school year for our scholars and families and continue to enrich and improve on the already high-quality education we provide.
As a community, we struggled together, we overcame barriers together, we learned together, and we celebrated successes together. As a result, we are stronger than ever when we work together and can genuinely say that Compass Charter Schools is the Gold Standard." 
Options Program
In our Options Program, the home study learning coach (parent) has an active involvement in their child's education on a daily basis and is fully committed to being the scholar's primary instructor. Our caring, credentialed supervising teachers provide ongoing guidance and support to families, monitor the use of instructional funds, provide information about the included subscription package of online supplemental learning, and keep families informed about Compass enrichment activities.
Aviva Ebner, Assistant Superintendent & Chief Academic Officer, shares, "Our Options Team has truly risen above this year! On short notice, our team pivoted to create live synchronous instruction that was rich and engaging. Social-Emotional Learning (SEL) was integrated into our programs to support scholars' emotional wellness. And strong relationships between families and staff were forged." 
Online Program
Our Online program utilizes Accelerate Education as our curriculum partner along with a number of tools that provide rigorous instruction for scholars in an online learning environment. We offer a virtual education with caring, dedicated teachers who provide live online classes each week. In addition, teachers offer a weekly Q&A session to provide added support when scholars need more help with their work. Our online courses are supported by subject-specific credentialed teachers just as you would find in a brick-and-mortar school. Our teachers truly want to see each scholar succeed in Compass Charter School's online program.
Janae Smith, Director of Online Learning, shares, "During the 2021-22 school year, the Online Learning Department has exemplified our mascot, the Firebird, and continues to rise and meet scholar needs through leveraging research-based, virtual instructional tools to implement tier 1 strategies. In addition, staff and scholars have had the opportunity to collaborate with their peers. This collaboration has enabled the entire department to rise together, participating in differentiated projects and project-based learning activities, building relationships among peers through live, synchronous instruction, and working with all of our educational partners to ensure that the Online Learning Department continues to be the Gold Standard in Virtual Education."
AVID
AVID (Advancement via Individual Determination), is a proven development system that creates a safe open environment with high expectations for both scholars and teachers, to establish a collaborative goal to improve academic success. All supervising teachers attend AVID Professional Development and employ AVID Strategies across both programs. AVID helps to close achievement gaps and prepare even more scholars for higher education or whatever life dream lies ahead. 
Andrea Lomeli, AVID Coordinator shares, "AVID Elective Scholars have created a fun, engaging virtual community who have felt more comfortable rising above hesitation and challenges to share ideas, ask questions, and listen deeply to one another. In doing so, they have been able to discuss and share ideas on different topics and really hear where they are each coming from. This camaraderie has been a joy to watch blossom over the year and a testament to how these elective scholars have overcome their fears to rise above and build for their futures. 
All supervising teachers at Compass have come together to rise above and elevate their knowledge of Fostering an Equitable and Engaging Culture in their Classrooms through their attendance of AVID Elevate. At Compass, all teachers strive to build and maintain an equitable and engaging culture for learning. Our supervising teachers have set the bar high through critical conversations and exploring researched best practices. They are committed to finding ways to honor and engage all scholars' voices and establishing and maintaining rigorous expectations." 
Engagement Department
Our Engagement Department at Compass provides a wide range of activities from our scholar clubs, field trips, and enrichment activities. In addition, we visit locations all over California and the world, virtually and in person. 
Rebecca MacAlpine, Director of Engagement, shares, "We have risen above the challenges and complications presented by COVID-19 and still provided enriching and meaningful ways for scholars to socialize with each other and learning coaches to connect."
Counseling Department
Our counselors at Compass support all scholars in academic achievement, personal social development, and college and career readiness. We provide Individual Scholar Planning that consists of support to help scholars establish personal goals and develop future plans through academic planning and appropriate course selection. Responsive Services that meet the immediate needs and concerns of our scholars. A Counseling Curriculum that provides scholars the knowledge and skills appropriate for their developmental level and addresses the needs of the school community. And College & Career Readiness offers post-secondary planning, exploration, college admission, and financial aid support.
Debra Stephan, Director of Counseling, shares, "We have risen above in the Counseling Department this year by adding extra live small group sessions and VLOG's to support the Social-Emotional Learning (SEL) needs of scholars impacted by world events." 
Ways to Celebrate National Charter Schools Week 2022!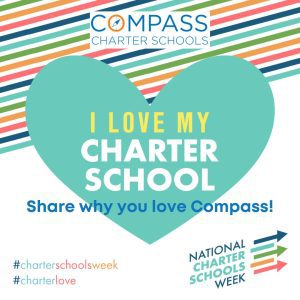 ---
Compass Charter Schools is a WASC-accredited virtual personalized learning public charter school serving thousands of scholars throughout California. Catering to TK-12 grade scholars, Compass offers two personalized learning programs. Compass is committed to creating a collaborative virtual learning community, inspiring scholars to appreciate the ways in which arts and sciences nurture a curiosity for lifelong learning and preparing scholars to take responsibility for their future successes.
For more information, visit About Compass, and follow us on social media via Twitter, Facebook, and Instagram.