Thousand Oaks, CA – Compass Charter Schools (Compass) announced that Karle Roberts, Options Coordinator, and Vanessa Beyer, Outreach Coordinator, have been selected as our 2021-22 Employees of the Year.

Each school year, Compass honors our staff with the Employee of the Year award. All staff are encouraged to nominate fellow employees they feel are high-achieving, have a strong work ethic, and possess excellent leadership skills. The Staff Advisory Committee reviews all nominations and selects the certified and classified Employees of the Year.
Karle Roberts, Options Coordinator
Certificated Employee of the Year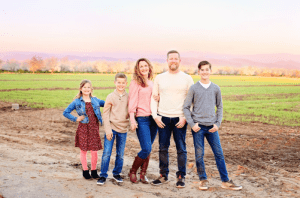 (Pictured here is Karle Roberts with her family.)

Roberts was born and raised in the Central Valley. She has been married to her husband, Ryan for twenty years, and is a mom to three school-aged children, Preston, Peyton, and Presley. Roberts began teaching in 2001 in traditional brick-and-mortar schools and after four years discovered a site-based independent study charter school from a friend. It was then that her love of independent study began. This experience opened her eyes to the charter world, and, upon having children, she transitioned to virtual schools. Roberts began working for Compass in 2014 and has held roles as an Online Teacher, Senior Virtual Learning Specialist, Family Engagement Coordinator, Regional Coordinator, Assistant Principal, Interim Director of our Options Learning Program, and currently serves as one of our Options Coordinators.

Roberts recently completed the School Leadership Academy: Preliminary Administrative Credential Program from the University of Southern California, and it was through her years in administration that she discovered her passion for helping others and wanting them to be successful in independent study programs.

Roberts is honored and humbled to be recognized by Compass as the 2021-22 Certificated Employee of the Year. She truly enjoys her role and sees her position as a way to help guide and lead her team of teachers and their families through each school year. Each year is never the same, but navigating it together, helping facilitate the various departments and resources within Compass, and growing through each experience. Roberts believes "Your work is going to fill a large part of your life, and the only way to be truly satisfied is to do what you believe is great work," (quote by Steve Jobs) so she works each day by giving her all and believing in all that she does.
Vanessa Beyer, Outreach Coordinator
Classified Employee of the Year


(Pictured here is Vanessa Beyer with her family.)

Beyer is a talkative virgo who grew up in Berkeley, California, with her mom, sister, cats, and a lop-eared bunny. She made her way to Texas in 2002 to study midwifery. After completing her training and becoming a licensed Midwife, she took time off to start a family. She now has three boys, ages 9, 13, and 16, who keep her quite busy. She began researching schools in 2009 and, finding none that matched her family's alternative leanings, so she geared up to homeschool her then five-year-old. Beyer worked at several brick-and-mortar and charter schools in Texas and California. In 2018 she co-founded a Waldorf-inspired homeschool enrichment program that covered all subjects under a peaceful canopy of beautiful trees on land in Northern California.

Beyer and her family discovered Compass Charter Schools and fell in love with the vision and team. In 2019 she joined the staff as the Enrollment Coordinator and has finally found her forever home. She loves the flexibility, positive work culture, and camaraderie at Compass. When she has downtime, you will find Vanessa reading, gardening, lounging by the pool, and spending time with her large extended family. She loves to travel and recently made a visit back to Sweden to reconnect with her beloved family.

"The entire process of selecting Employee of the Year and sharing results with those nominated shows the care that leadership takes to elevate those that work hard," shares Beyer. "This has led to a boost in morale during what has been a difficult couple of years. I love working at Compass!"

"We are so proud of our employees here at Compass, and the Employee of the Year program gives us the opportunity to highlight our staff who are going above and beyond in their work," shares J.J. Lewis, Superintendent & CEO. "Thank you to Vanessa Beyer and Karle Roberts for your commitment and dedication to Compass. You both model Compass' core values of achievement, respect, teamwork, integrity, and communication with our staff in all that you do. Thank you for your inspirational, scholar-centered work at Compass!"

The Employee of the Year Program started in the 2015-16 school year. Previous honorees are:
2021-22:
Certificated Employee of the Year: Christina Vert
Classified Employee of the Year: Marco Mattaliano

2020-21:
Certificated Employee of the Year: Leslie Sharma
Classified Employee of the Year: Nora Barnhart

2019-20:
Certificated Employee of the Year: Kristy Smith
Classified Employee of the Year: Jessica Franco

2017-18:
Certificated Employee of the Year: Kelli McCaulley
Classified Employee of the Year: Vanessa Plascencia

2016-17:
Certificated Employee of the Year: Kasey Bentley
Classified Employee of the Year: David Brasch

2015-16:
Certificated Employee of the Year: Karle Roberts
Classified Employee of the Year: Karla Gonzalez & Sophia Trivino
About Compass Charter Schools
Compass Charter Schools is a WASC-accredited virtual personalized learning public charter school serving thousands of scholars throughout California. Catering to TK-12 grade scholars, Compass offers two personalized learning programs. Compass is committed to creating a collaborative virtual learning community, inspiring scholars to appreciate the ways in which arts and sciences nurture a curiosity for lifelong learning and preparing scholars to take responsibility for their future successes.

For more information, visit About Compass, and follow us on social media via Twitter, Facebook, and Instagram.