FOR IMMEDIATE RELEASE: October 11, 2022
CONTACT: Kimberly Aguilar, (805) 341-4689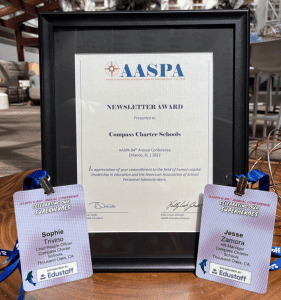 Thousand Oaks, CA – Compass Charter Schools has been selected by the American Association of School Personnel Administrators (AASPA) Recognitions Committee and Executive Board to receive the 2022 AASPA Newsletter Award for our Compass culture eNewsletter, The Compass Way. The Newsletter Award is given on the basis of a district's newsletters, which are judged on their content and layout. Compass was recognized at an Awards Luncheon today, Tuesday, October 11, 2022, at the AASPA Annual Conference in Orlando, Florida. Sophie Trivino, Chief People Officer, and Jesse Zamora, Human Resources Manager, accepted the award on behalf of Compass. 
"We are very proud that we were selected for this award in the inaugural year of our Compass culture eNewsletter, The Compass Way," shares J.J. Lewis, Superintendent & CEO. "It is a great honor to be selected and a privilege to honor our staff in this newsletter. The purpose of this newsletter is to reflect on our Compass values, share important updates, explore a growth mindset, and so much more as part of our internal communications plan. Thank you to Sophie Trivino and Kimberly Aguilar, our Community Relations Coordinator, for their dedication and commitment to this project."
The Compass culture eNewsletter, The Compass Way, is a newsletter dedicated to serving our teachers and staff. We highlight our employees of the month, share committees updates, including updates from our Diversity, Equity, & Inclusion and Special Events Committees, welcome new staff, honor our longest-serving staff, celebrate birthdays and work anniversaries, share growth mindset articles, Wellness for Educators programs, important events, and more. The overall aim is to celebrate our diverse culture at Compass and bring together our Compass Family.
About Compass Charter Schools
Compass Charter Schools is a WASC-accredited virtual personalized learning public charter school serving thousands of scholars throughout California. Catering to TK-12 grade scholars, Compass offers two personalized learning programs. Compass is committed to creating a collaborative virtual learning community, inspiring scholars to appreciate the ways in which arts and sciences nurture a curiosity for lifelong learning, and preparing scholars to take responsibility for their future successes.
For more information, visit About Compass, and follow us on social media via Twitter, Facebook, and Instagram.