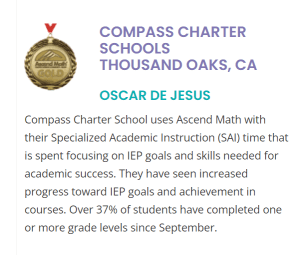 FOR IMMEDIATE RELEASE: May 11, 2022
CONTACT: Kimberly Aguilar, (805) 341-4689
Thousand Oaks, CA – Ascend Education named Compass Charter Schools a 2022 Ascend Math Gold Medal School. As a Gold Medal School, our implementation will be featured in the Gold Medal Honor Roll on Ascend Education's website for the next year.
Aviva Ebner, Assistant Superintendent & Chief Academic Officer, shares, "Because scholars have seen Ascend consistently implemented and they can access it easily, we have seen usage jump; this indicates scholars are engaged with the platform. We believe this also positively impacts scholar attendance at Specialized Academic Instruction sessions." 
The Gold Medal Award was established in 2010 to honor schools or districts that best demonstrate a dedication to ensuring that all scholars become successful at math. Compass utilizes Ascend Math, an online individualized math instructional resource, to address unfinished learning, accelerate math learning, and outpace growth targets. 
"Congratulations to Compass Charter Schools students for the perseverance and hard work that led to their exceptional results," said Kevin Briley, CEO of Ascend Education. "We are extremely proud of the important job the educators at Compass are doing to help their students succeed in math, gain confidence, and positively advance in life."
"We are honored to be named a 2022 Ascend Math Gold Medal recipient and partner with Ascend Math to support our scholars with this resource during their Specialized Academic Instruction," shares J.J. Lewis, Superintendent & CEO. "Our team continues to provide robust offerings to our scholars to help navigate and support their educational journey with Compass. This gold medal is a testament to the Gold Standard work of our Special Education Team." 
About Ascend Math®
Ascend Math is personalized online math instruction that provides each student with a unique study path through skill gaps at each level. Individual study plans are prescriptive, adaptive, and automatically assigned. In addition, Ascend Math provides all the interactive instruction each student needs. Students using Ascend fill skill gaps quickly and often improve one to two grade levels in the first few months
About Compass Charter Schools
Compass Charter Schools is a WASC-accredited virtual personalized learning public charter school serving thousands of scholars throughout California. Catering to TK-12 grade scholars, Compass offers two personalized learning programs. Compass is committed to creating a collaborative virtual learning community, inspiring scholars to appreciate the ways in which arts and sciences nurture a curiosity for lifelong learning and preparing scholars to take responsibility for their future success.
For more information, visit About Compass, and follow us on social media via Twitter, Facebook, and Instagram.
####