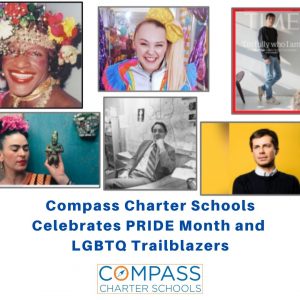 The History of Pride:
The Stonewall Riots, also called the Stonewall Uprising, began in the early hours of June 28, 1969, when New York City police raided the Stonewall Inn, a gay club located in Greenwich Village in New York City. The raid sparked a riot among bar patrons and neighborhood residents as police roughly hauled employees and patrons out of the bar, leading to six days of protests and violent clashes with law enforcement outside the bar on Christopher Street, in neighboring streets nearby Christopher Park. The Stonewall Riots served as a catalyst for the gay rights movement in the United States and worldwide.
This has led to advances and pride that have brought this community to where it is today. Pride has always been a protest against unjust systems, even when it's lighthearted and fun. It is a form of civil disobedience similar to the movements led by Gandhi and Martin Luther King, Jr. 
View a full history of Pride here:
https://www.them.us/story/the-complete-history-of-pride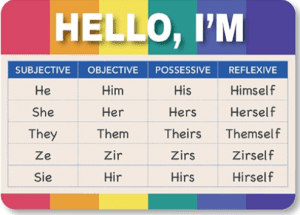 One way Compass is inclusive and supportive is by promoting the use of gender-neutral pronouns. As you may have noticed in our email signatures and the way we name ourselves in zoom meetings.  
Parents advocate for their LGBTQ sons and daughters every day; watch this example here: 
Missouri father fights for transgender daughter in passionate viral speech-https://youtu.be/So2eUuYWFqE
Trailblazers in Pride's History
We would like to present to you some impactful and inspirational LGBTQ influencers through history.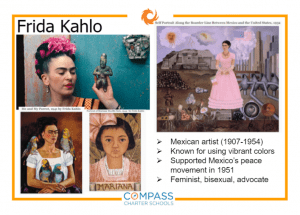 Frida Kahlo was born in 1907, was a gifted painter known for depicting Mexican culture through her art. She drew from her experiences with physical pain (as she dealt with having polio as a child, among other physical ailments)  to depict subjects with beautiful, vibrant colors while being an LGBTQ advocate through her art. She became known worldwide as a self-portrait painter and, to this day, a role model for bisexual women. Today, more than half a century after her death, it is said that more money is paid for one of her paintings than any other female artist.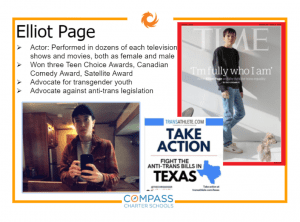 Elliot Page has been an actor since the age of 10 (formerly known as Ellen Page). He has performed in dozens of television shows and movies (currently starring in the Umbrella Academy.) He has been nominated and won numerous awards as an actor: three Teen Choice Awards, Canadian Comedy Awards, and the Satellite Awards. He previously came out as a gay woman in 2014 and is currently the first trans man to be on the cover of Time magazine, where he discusses his fear, anxiety, excitement, and gratitude towards coming out transgender and living his true, authentic self.  
An important note: He is now using his recognition as an actor to advocate against the anti-trans legislation currently being proposed in various parts of our country.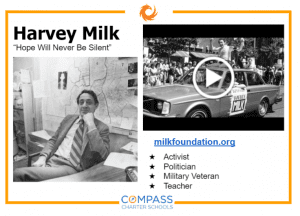 Harvey was the first openly gay elected official in the state of California in 1977. He was a former Diving Officer in the Navy during the Korean War and later became a High School Teacher in New York City. After moving to San Francisco in the 1960s with his partner Scott Smith, he attempted a run for office three times before finally being elected as City Supervisor.
On November 27th, 1978 – a former member of the San Francisco Board of Supervisors named Dan White took the lives of both the Mayor of San Francisco and Supervisor Milk. He was angry about his position of power being given to a gay man. Harvey Milk continues to be celebrated every year on May 22 – Harvey Milk Day, for his contributions toward the civil rights of the LGBTQ community, the visibility and viability of LGBTQ people in national politics, and for his bravery in putting himself into a position of elected political power as a gay man, something that he knew would potentially put his life at risk during that time.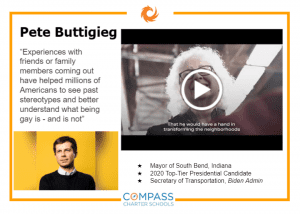 Pete Buttigieg is the first openly gay man to run a successful, high-profile presidential campaign. He is also the first gay man to win a presidential caucus after coming in with the most votes during the Iowa caucus. He has since gone on to be the first openly gay man to be nominated and voted into a Presidential cabinet – so many firsts for this man! And all of this, before turning 40 years old. Pete is a fantastic role model he served as, not only to the LGBTQ community but to everyone. Pete, like us, owes a lot to those who came before him, like Harvey Milk.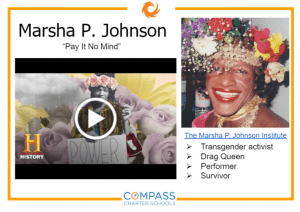 The next historical figure I will highlight is Marsha P. Johnson – also known as Marsha "Pay it no mind" Johnson. She was a self-identified transgender activist, drag queen, performer, and survivor. She was a prominent figure in the Stonewall uprising of 1969 that led to the Pride events we celebrate today.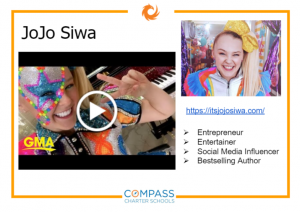 JoJo Siwa is the final prominent figure we will be highlighting. She is only 17 years old and has found huge success as an entrepreneur, entertainer, social media influencer, and bestselling author.
Watch a brief clip from Good Morning America on JoJo Siwa's success and coming out as part of the LGBTQ+ community: https://www.youtube.com/watch?v=Mwk8j4sZD5c
This is a special month to celebrate those trailblazers that have come before us and fight for freedom and equality. So what does pride mean to you? 
"It takes no compromise to give people their rights…it takes no money to respect the individual. It takes no political deal to give people freedom. It takes no survey to remove repression."
― Harvey Milk
Thank you to Jason Bee, CCS of Yolo Principal, Michelle Bateman, Counselor, Dana Mendez, Supervising Teacher, and Jacob Samples, Counselor, for putting together this excellent presentation and hosting our Pride Month Assembly on Friday, June 4.