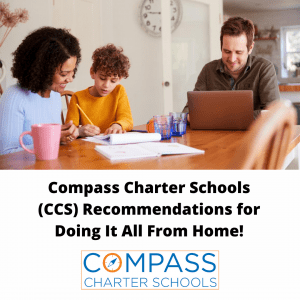 CCS Staff Shares Recommendations for Doing It All From Home!

(
part of a series of blogs throughout April
to share our expertise with the greater community
)
This is an unprecedented time in our world. First of all, lay all your expectations down and take the burden off yourself. Be present in today. Do not compare yourself to others or what you see on social media. You will get it done, there is no exact science or absolute technique for teaching and working from home. Our excellent staff shares some expertise, from their many years of experience. We are grateful to each of them for sharing what works for them and hope you might find some tips and tricks which may work for you:
The first recommendation is to make sure that you are setting realistic expectations to balance school, work, and personal life. Second, make sure to slowly ease into your expectations; taking on everything at once can be overwhelming, and many may burn you out before you even begin!
~Janae Smith, Online High School Coordinator
Working and teaching from home is going to look different depending on the temperaments of the family members. A key will be to create and post a schedule taking everyone into consideration. There will need to be a balance between self-directed activities with some direct instruction and availability for answering questions and supporting challenging work.
~Angela Cloud, Educational Facilitator 
Everyone should have their own designated place to do their work.
~David Brasch, Director of IT
There are many premade schedules online, but you can simply create a table with Monday through Friday and hours from 6 a.m. to 9 p.m. (or whatever time range you prefer). Then begin to think about the following questions as you create your weekly schedule:
What time will you wake up?

How much time will you allow for breakfast?

Do you have chores to put on your schedule? 

Do you have meetings or lessons that must be done at a specific time?

How many hours will you spend each day doing school work?

What time will you begin doing school work?  

What time is your break, and when will you begin working again?

What time will you eat lunch?

What time will you finish your day?
~Erin Thomson, Online Middle School Teacher
Incorporate reading, art, game time at other times during the day when you need time for meetings or more focused work activities. Give your scholar a few fun activities they can do if they need to wait for you to get off the phone or finish a meeting: GoNoodle dance party, video games, play-doh, documentaries, PBS Kids, puzzles, etc.
~Rebecca Jacobs, Educational Facilitator  
Establish a rhythm that includes short work periods followed by playtime or free time (outdoor preferably). A routine helps reduce anxiety and empowers scholars to lead the way through their schedule.
~Abigail Terrell, Educational Facilitator 
Create an environment. Try to reduce/eliminate distractions, but make the atmosphere cheerful. Ask your scholar to draw pictures to hang on the walls around you. Arrange your schedule to alternate times when you can work without distraction and children can work independently with times where you are spending quality time with your children.
~Dr. Aviva Ebner, Assistant Superintendent & Chief Academic Officer
Do not let obstacles stress you out when trying to balance working and teaching your scholar(s) at home. It is not worth projecting anxiety, anger, or any negative emotions on your family, which will end up creating a negative environment in the home. Take a deep breath and know that not everything is going to be smooth sailing, but you will get through it.
In the beginning, you will probably have to do some of your work in the evening and on the weekends.
Train your scholar(s) to be as self-sufficient as possible when it comes to accessing their schoolwork and submitting it.
~David Spink, Online High School Teacher
Thank you to our incredible staff and educators for sharing this wealth of information. Our team is here for you – our scholars, our learning coaches, our staff, and our greater community. Be well, stay safe, and reach out if there is anything our team can do for you.