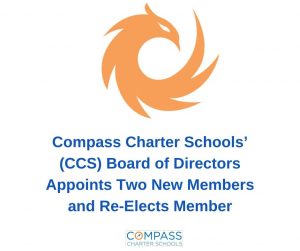 FOR IMMEDIATE RELEASE: July 9, 2020
CONTACT: Kimberly Aguilar, (805) 807-8295
THOUSAND OAKS, CA – The Compass Charter Schools (CCS) Board of Directors announced the election of Randi Pugh and Thomas Arnett, and re-election of John Vargas, to its Board of Directors following their Annual Meeting held Sunday, June 28.
"We are honored to have Randi Pugh and Thomas Arnett join our Board of Directors," shares CCS Superintendent & CEO J.J. Lewis. "And so grateful that John Vargas has chosen to continue to serve on our board. We look forward to their contributions in supporting the operation and growth of the educational opportunities we provide scholars at CCS."
Pugh is a "Loud and Proud" CCS parent. She holds a bachelor's degree in business administration-management and has served in various roles in a multitude of industries, including nonprofit, retail management, human resources, and data research. Pugh already serves the CCS community as the chair of the Parent Advisory Committee and as a parent representative to the El Dorado County Charter SELPA Community Advisory Committee. 
In recent years, Pugh has focused on facilitating the education of her youngest child with autism and was no longer being served adequately in the brick and mortar public education system. Pugh is an advocate and acts as a voice for parents who seek the best educational opportunities for their children regardless of their ability. "My passion is that all scholars have the opportunity to develop a life-long love of learning, enabled by embracing the whole spectrum of learning methods, educational choices, and enrichment engagements," shares Pugh.
"As a parent, the educational opportunities for our children is something I am highly passionate about," mentioned Pugh. "I am excited for the opportunity to serve in an active role that will impact the overall Compass experience."
Arnett received a Bachelor of Science in Economics from Brigham Young University and an MBA from the Tepper School of Business at Carnegie Mellon University. Arnett previously served as a trustee and board president for the Morgan Hill Unified School District in Morgan Hill, California, worked as an Education Pioneers fellow with the Achievement First Public Charter Schools, and taught middle school math as a Teach For America teacher in Kansas City Public Schools.
"I am passionately dedicated to helping improve the United State's K–12 education system and to ensure that all scholars can fulfill their potential," shares Arnett. He currently pursues this aim by working as a senior research fellow in education for the Clayton Christensen Institute. His work focuses on studying innovations that amplify educator capacity, document barriers to K-12 innovation, and identify disruptive innovations in education.
For nearly a decade, Vargas has held key leadership positions in public education since co-founding Global Education Academy, a successful public charter school serving disadvantaged youth in South Los Angeles. Vargas holds a Bachelor's Degree in Political Science from UCLA and a Masters Degree in Linguistics from Cal State University Long Beach. He has served as the lead administrator for numerous charter schools and has served on both the Hawthorne School District Board of Trustees and the El Camino College Board of Trustees. Vargas continues to support scholar achievement in his current role as COO of ISANA Academies, a charter school group based in Los Angeles. 
"I am honored to continue serving the Compass community as a Board Member," shares Vargas. "I look forward to building upon the great work we have done to support our scholars and their success."
To learn more about the Board of Directors, visit https://www.compasscharters.org/about-us/board-of-directors/. CCS continues to seek interested members of the community to serve on its Board of Directors. For more information on serving or to apply, please contact J.J. Lewis at either jlewis@compasscharters.org or (818) 824-6233.
About Compass Charter Schools
Compass Charter Schools (CCS) is a WASC-accredited virtual personalized learning public charter school serving thousands of scholars throughout the state. Catering to TK-12 grade scholars, CCS offers two personalized learning programs. CCS is committed to creating a collaborative virtual learning community, inspiring scholars to appreciate the ways in which arts and sciences nurture a curiosity for lifelong learning and preparing scholars to take responsibility for their future successes.
 For more information about CCS, visit www.compasscharters.org, via Twitter (https://twitter.com/CompassCs), on Facebook (https://www.facebook.com/CompassCS/) or on Instagram (https://www.instagram.com/compasscs/).