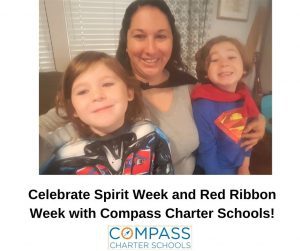 This week, October 26-30, we celebrate
Spirit Week and Red Ribbon Week
by dressing up with our fellow CCS family and joining in on virtual scholar workshops, a pumpkin decorating contest and photo contests! We encourage all of our CCS families to participate, as we celebrate all the exceptional work that we do every day. Share the impact that the Compass Family has had on your life! 
Compass is one of California's leading WASC-accredited virtual charter schools of choice. We are a certified
Aplus+
AVID
,
Kindness
, and
Energy Bus
school! With an incredible
Board of Directors, Parent Advisory Council, and School Leadership Council
, Compass always puts scholars first, with our excellent programs in Online, Options, Assessments, AVID, Counseling, English Learning Support, Scholar Engagement, Scholar Success & Support, and Special Education.
Our mission is to inspire and develop innovative, creative, self-directed learners, one scholar at a time. In a collaborative virtual learning community, we strive to inspire scholars to appreciate the ways in which arts and sciences nurture a curiosity for life-long learning and prepare scholars to take responsibility for their future success. We always model our ARTIC Core Values of Achievement, Communication, Teamwork, Integrity, and Respect.
This year's Red Ribbon Theme is
"Be Happy. Be Brave. Be Drug Free."
and every day, we have a special way to celebrate:
Monday, Oct 26: Proud to Be Drug Free (Wear Red)
Tuesday, Oct 27: Save the Day from Drugs (Wear a Cape/Favorite Superhero Outfit)
Wednesday, Oct 28: Stay Strong Against Drugs (Show your Muscles)
Thursday, Oct 29: From Head to Toe, I'm Drug Free (Crazy Hair and Socks)

Friday, Oct 30: CCS Spirit Day – Wear your Orange, Blue, or your Proud Scholar Shirt!
When looking back on the
history of Spirt Week
, it is quite intriguing. In 1952, in Palo Alto, CA, the first model of Spirit Week was known as "Friendship Week" at Palo Alto High School. It was intended to welcome back students. However, this progressed into a half-week celebration, and in the 1960s, Friendship Week was renamed Spirit Week. In the 1960s, Spirit Week also had its gloomy times due to the Vietnam War, and it wasn't after the war until the plight of Spirit Week faded. Since the 1990s, 75% of American High Schools celebrate Spirit Week.
Compass is also proud to celebrate
Red Ribbon Week
. National Family Partnership was established as a grassroots, nonprofit organization in 1980 by a handful of concerned and determined parents who were convinced they should begin to play a leadership role in drug prevention. Since its founding thirty years ago, NFP has devoted its efforts to the well-being of youth. Their mission is to lead and support families and communities in nurturing the full potential of healthy, drug free youth.
The
Red Ribbon
has touched the lives of millions of people around the world. In response to the murder of DEA Agent Enrique Camarena, angered parents and youth in communities across the country began wearing Red Ribbons as a symbol of their commitment to raise awareness of the killing and destruction caused by drugs in America. Enrique (Kiki) Camarena was killed in Mexico when he decided to join the US Drug Enforcement Administration; his mother tried to talk him out of it. "I'm only one person," he told her, "but I want to make a difference."
Join us this week to celebrate and make sure to share on social media,
Facebook
,
Instagram
, and
Twitter
!