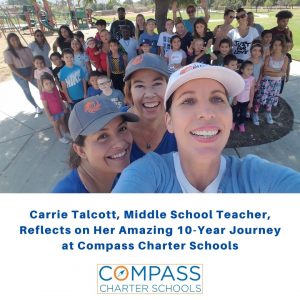 Carrie Talcott, our beloved Middle School Teacher, has been with Compass Charter Schools since its inception in 2011. Carrie earned her Associate of Arts Degree in Liberal Studies at Citrus College, her Bachelor of Arts Degree in Child Development, Preliminary Multiple Subject Teaching Credential, and Clear Multiple Subject Teaching Credential at California State University, Northridge. While at Cal State Northridge, she met her friend Melanie Rodriguez, who later asked her to develop Compass Charter Schools. J.J. Lewis was the board president at the time, and he was doing exceptional work to support the school's development.
Carrie has always been a proponent of school choice and determining the best method of education for each scholar. What she loves most about Compass Charter Schools is the exceptional education offered regardless of a family's economic background. Carrie works for the Online Program, where credentialed teachers offer stellar education programs all from the comfort of one's home. Carrie works to encourage and recognize each scholar as an individual with unique gifts. Her objective is to provide the tools and support her scholars to succeed academically while at the same time building their self-esteem and sense of accomplishment.
I sat down and "zoomed" with Carrie and learned more about her long-time commitment and admiration for Compass Charter Schools.
Carrie, what made you decide to come to work at Compass Charter Schools?
I always wanted to start a school and was approached about opening an online charter school in Thousand Oaks. Of course, I was thrilled and was immediately interested.
What has been your favorite stand-out moment over the ten years since Compass' inception?
A stand-out moment was going to a Clippers game with some of my scholars and being able to scream for the team, see the team up close, and be in a relaxing setting with my scholars.
What is your favorite Compass scholar success story?
I had a 5-grade scholar that had scored far below grade level on his assessments. I worked closely with him, and over the course of three months, he had brought his scores up to grade level in reading and math. In addition, he was doing all his projects on his own and stuck to a consistent schedule each day, even with the distractions of his siblings.
What is your proudest moment as a teacher at Compass?
My proudest moment as a teacher has been when one of my previous scholars became the Club President for the Science Fair Club and demonstrated his science fair project on video for all to see while I was advising the club.
What is your most significant memory working at Compass?
My most significant memories have to be bonding with other colleagues at our staff retreats on scavenger hunts. This has truly helped us teachers bond, collaborate, and learn more about each other in a fun setting.
In your opinion, why is Compass the Gold Standard in virtual learning?
Compass is the Gold Standard in virtual education because the teachers care about the scholars and provide the support they need. They always find ways to improve their teaching through technology tools and entertaining virtual sessions. They are committed to the success of the scholars.
What do you say to those considering pursuing an online education?
Technology is advancing and a massive part of our lives, so it is highly beneficial to learn to be tech-savvy in a tech-savvy world through technology. You also get to create your academic schedule and have the flexibility of when and where you can log in and work. Who does not love choices like that?
Any other fun memories to share?
I remember being at a pumpkin patch field trip one year and going on a ride through the pumpkin patch and talking to families. It was extraordinary meeting the families and sharing that experience with them. We even got to pick out a pumpkin to bring home.
Thank you for sharing your story Carrie, and for being an integral part of Compass Charter Schools. Our scholars have nothing but amazing things to say about Carrie, and we are so grateful that she has continued to take this journey with Compass through all the highs and lows. You are a huge reason why Compass continues to be the Gold Standard in Virtual Education!