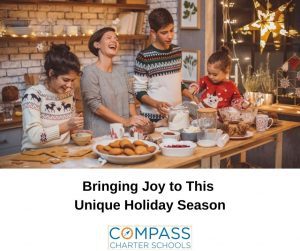 We have been social distancing now for what feels like forever, going on six months! But it is crucial to prevent the spread of COVID-19. As we approach this holiday season, large gatherings, events, and parties will most likely be canceled. Not participating in these annual traditions can be difficult for all of us. But, it is important during this time to keep the traditions alive that you can, and perhaps create some new ones with your scholar. 
It will be challenging for many not to travel and see their relatives for Thanksgiving, Christmas, Hanukkah, Kwanza, and more. Family get-togethers may be a tradition that you look forward to all year long. While social distancing is keeping us home, we can recreate family dinners with the help of technology and some creativity.
Plan Creative Family Gatherings
First of all, make sure to schedule a virtual family dinner or celebration that will work for all family members and/or friends. The next step is to individually recreate traditions and perhaps plan a meal that everyone can cook in their own home. Your family can all sit down for dinner at the same time, while video chatting or talking to each other on the phone. You may not be sitting right next to them, but it can still feel like you are sharing the table and the warmth of the holidays.  
If different time-zones make hosting a virtual family holiday difficult, you can always set up a regular time to check in with family members during the holiday season. Share what fun holiday crafts, cooking, or projects that you are working on. Have your scholar share their artwork, read a poem, sing, or share their favorite holiday traditions. 
Work Through Your Feelings
It is natural to feel grief and sadness when the events that you are looking forward to all year are canceled. It is essential to allow yourself the room to feel and give yourself a permission slip not to have it all together right now. Be kind to others who may be struggling and let people participate at a level that feels comfortable for them.
Keep in constant communication with your scholar to make sure that they are working through their emotions. Talk to a trusted friend or family member about what you are feeling, and encourage your child to do the same. If your scholar or yourself feel genuinely overwhelmed, it may be the time to reach out to a mental health professional or your scholar's Compass counselor. It can be beneficial to share what you are experiencing and feeling with a trained professional.
Practice Gratitude
During this time, a silver lining is that we can practice gratitude for our loved ones, the deep connections that we share, and the holidays and traditions that we hold dear. Let us especially make sure to reach out to those alone during the holidays and need our extra support. 
Check out more of our Compass blogs and we always appreciate your feedback.